Have you ever had one of those mornings where it's a bit warm and kind of humid outside, and you step into the bathroom to tighten up the old face foliage? Then you notice that your facial hair is a little wild and curly, and it bears a striking resemblance to the hair south of your physical equator. It's enough to make you wonder if your facial hair and your pubes are the same things.
In truth, both beard hair and pubic hair grow and develop in similar ways. They are what's called androgenic hair, which means they rely on DHT and testosterone to grow. Androgenic hair also tends to give off more pheromones and form a more protective thicket, like the hair of our primate forebears.
So, how about we dive into a discussion of beard hair and pubic hair, what they have in common, and whether it's possible to make the former look a bit less like the latter.
Andro-WHAT-ic?!
Let's hearken back to those awkward, confusing first days of puberty. Your skin was spotty, and your voice was cracking. Clothes that fit fine last week were suddenly way too small.
Then came the hair.
The physical change that made hair spring out of your chest, armpits, and around your undercarriage was the sudden production of adolescent hormones, including testosterone and DHT. These hormones jump-started the follicle roots at various points on your body. The hair that emerged because of those hormones is called androgenic hair. Generally, androgenic hair emerges first on your pits and junk, and then later on your face.
So, you see, both your beard and your pubes are composed of the same type of hair. And this hair differs from the hair on your head in several different ways.
Why Your Scalp Hair Doesn't Look Pubic
Depending on genetics, your scalp hair might have a lot of different characteristics. It could be thick as a lion's mane or thin as a wisp. It could be wavy, curly, frizzy, straight, springy, or any combination of these. It could be lush and shiny or flat and matte.
However, no matter how curly, thatched, or unruly your hair is, it isn't that same hair as your pubes.
Scalp hair emerges early in your life, long before your body undergoes the hormonal changes of puberty. This type of hair, which is not reliant on DHT to grow, is called terminal hair. Terminal hair requires only blood flow to develop and grow. The life-cycle of a terminal follicle is several times longer than that of beard or pubic hair.
Terminal hair also has a different texture and consistency from androgenic hair. This is not only because of how it develops on your body, but also because of its evolutionary purpose.
A Hairy Blast from the Evolutionary Past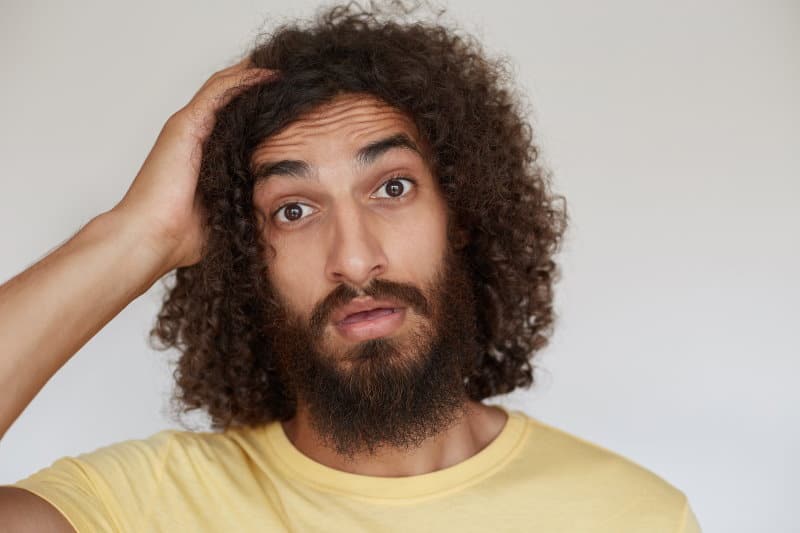 To understand why both your pubes and your beard come in so thick and curly, you first need to think about their evolutionary purpose.
Pubic hair, like armpit hair, reduces friction on the body. It produces a lot of natural oil (more on that shortly) to aid easy movement. Pubes also provide a certain amount of protection, catching bacteria and other potentially harmful agents that want to cling onto our genetic-code delivery system.
It's tempting to say that the beard provides a similar protective function, but that is unlikely. Humans are sexually dimorphic, meaning that men and women have different physical attributes. If humans needed beards for protection, women would grow androgenic hair on their faces too.
The more likely reason has to do with the concentration of sebaceous glands in your face, groin, and pits. These glands produce the aforementioned natural oil called sebum. Sebum contains pheromones. There's a decent argument that a pheromone-wafting beard on men is like an ornamental train on a peacock. It's there to attract a mate.
Pubic versus Proper
Of course, humans have higher reasoning than either peacocks or their evolutionary precursors. We can't just get by on raw pheromones and an ornamental pelt when attracting a mate.
So, it follows that humans might prefer facial hair that is straighter and more orderly than, say, a thicket of pubic hair. Beardsmen are always reaching toward an ideal. Yet before you can determine how to restyle your bush-like beard into something more proper, you need to understand how facial hair grows differently on different guys.
Here are some likely reasons for your pube-esque facial hair and the factors that lead to them.
| | |
| --- | --- |
| Possible Reason | Contributing Factors |
| A lower level of DHT is preventing full coverage and full follicle development. | Guys have differing levels of this hormone. You aren't testosterone-deficient because your beard is coming in thin. Genetics and hundreds of small bodily factors determine DHT production. |
| Facial hair is dry and brittle. | This is all a hydration issue. You need to make sure you moisturize both your beard and face regularly. |
| Beard follicles growing in curly. | Follicles grow in different directions, which can lead to curling. |
It's important to emphasize these factors do not imply a physical deficiency. Most men contend with at least one of these issues, and many deal with all of them. You don't need to seek out testosterone supplements or a doctor to deal with pube-like facial hair.
De-Pube-ifying your Facial Mane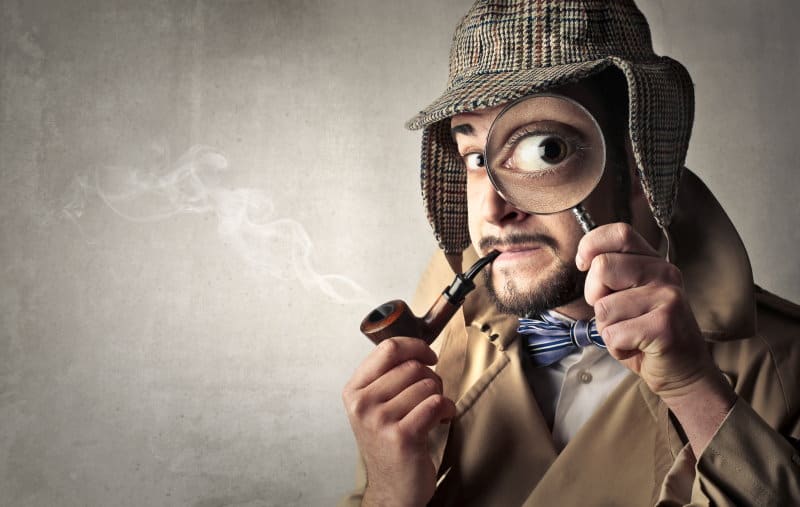 Getting your facial hair to look a bit less crotch-like is quite straightforward. Once you have assessed the factors in your beard that are giving it a pubic aspect, you can take decisive, constructive action. Let's look at all three potential reasons and how to address them.
Coverage and Thickness
If your beard is thin, there are a few tried-and-true options to fix it:
Let it grow out. Simple as it sounds, your follicles might just be too short right now.

Load up your diet with eggs, nuts, and fish, and take Vitamin B, Vitamin C, and Calcium supplements. All of these promote beard growth.
Use a beard roller on thin patches to stimulate follicle growth.

Try

minoxidil

. It's available over the counter and has succeeded in growing facial hair.
Hydration
Repairing a dry, brittle beard is pretty easy. You need to condition and moisturize your facial hair regularly. This means using a beard-specific shampoo and conditioner and finishing with a hydrating beard oil.
A hydrated beard will look healthier and fuller, not like the thicket of hair around your tackle.
Curling Hair
This issue is perhaps the most labor-intensive to solve. Decent beard balm, beard oil, or facial hair-styling product will probably go a long way toward smoothing out your upper curlies.
However, if you find you need more firepower to straighten your beard, consider a beard relaxing product or a hot flat iron. Be careful with these options, however. They might be effective, but you can fry your beard hair if you aren't careful.
The Bottom Line
It's not surprising that facial hair can resemble pubes. They are essentially the same type of hair. But with a little care and some elbow grease, you can have your facial hair looking more proper and less pubic soon enough.
Moreover, we can offer some knowledge on straightening your beard. Check out our article post about seven worthwhile straighteners.