The Germans do a lot of things well. Cars, beer, extremely long operas – there's no doubt Deutschland has a claim to some bragging rights in all these fields. You can add to this list men's razors. German blade makers are among the best in the world, and two of the biggest names are Merkur and Muhle.
Both Merkur and Muhle are pioneers in the wet shaving game. While the Merkur brand has a good 40 years on Muhle, it's hard to say that extra time gives them a significant edge. In a showdown of Merkur vs. Muhle, we favor Muhle for the sheer volume and variety of their selection.
To be sure, a high-quality shave kit is not an investment to take lightly. They can be pricy and hard to maintain. We're going to dig deep and illuminate the pros and cons of these two iconic brands.
The Power of German Engineering
Remember way back in 2015, when the razor startup Harry's began advertising on every podcast under the sun? Among the first things they mentioned was that the company owned a hundred-year-old blade factory in Germany.
That story was true, incidentally. The American company did purchase the Feintechnik blade factory in Thuringia, Germany. Harry's blades are perfectly fine, but it appears the real value of this acquisition was the marketing claim.
What is it about German blades that holds such an appeal?
In total, the German people are known – rightly or wrongly – for efficiency and industry. They also have a reputation for making darn good blades.
The city of Solingen, where Merkur originated, has a well-earned reputation for high-quality blade making. This tradition goes back centuries, to when sword-makers honed their craft. One of the reasons this region had such a productive forging scene is the prevalence of rivers. Their rushing streams provided natural hydropower to speed the forges where blades were cut.
The American sword seller Benjamin Arms notes that "in the 1960s Germany was responsible for 60% of the worldwide cutlery, and 70% of that was produced in Solingen." Is it any wonder, then, that Germany became a haven for the wet shaving industry?
Blade-making culture in Germany went hand in hand with shaving culture. Germany has always been a nation that prizes both clean faces and shorn bodies.
The Resilience of Wet Shaving
Not so long ago, men flocked to electric razors as an easy, quick way to de-stubble their faces. While the shave was never especially close, electric shaving was easy. There were no shave soaps or brushes to worry about. A 1964 New York Times article noted that "among teen‐age boys who shave, 63 per cent use electric shavers."
In mid-century America, the era of wet shaving seemed to be over. Guys apparently no longer had time to lather up and make two or more passes over their face. They needed to sell encyclopedias and eat gelatinated meat dishes!
The tide has shifted in the new century, however. Shaving brushes and safety razors are back! Market-share of electric razors is going down for the first time in decades.
What is the cause of this change? We think a major factor is the simple fact that men have decided they would prefer an enjoyable, high-quality shaving experience. Today, there are many excellent grooming options out there, with many brands like Cremo and Dollar Shave Club leading the pack with deluxe, affordable creams, and soaps!
Twenty years ago, you were stuck with synthetic shaving foam and a lame plastic razor. It's no wonder, so many guys defected to face buzzers that left them with a perpetual five o'clock shadow. 
You see, wet shaving is a ritual. It takes time and care, and it requires you to be mindful of the contours of your face. In the electric razor era, that might have felt like a waste of time. Right now, it's a big part of masculine self-care.
The Benefits of a Good Wet Shave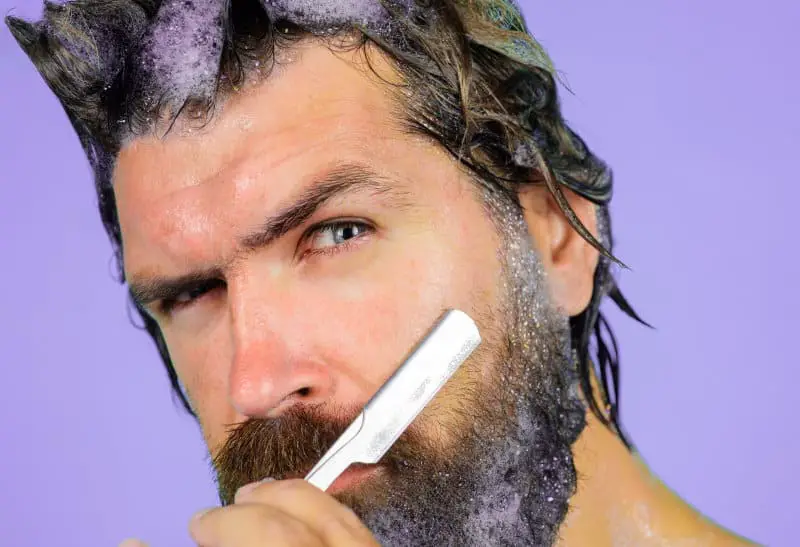 Enough with the generalities! Let's talk about the real, tangible benefits of wet shaving.
First, we want to be clear about our terminology. When we say wet shave, we refer to a traditional shear involving a safety razor or straight razor, with a lather produced by a brush and either cream or soap.
On average, this method has some strong advantages over the disposable-razor-and-foam route. These include:
Affordability
While a good steel razor and beard brush might be a large upfront investment, you will find that wet shaving is much more economical in the medium to long term. Razor blades are absurdly cheap, and straight razors can go 70 shaves before they need to be sharpened. A single puck of shave soap can manage 100 shaves. Your annual wet shaving costs might be less than a single pack of Mach 3 cartridges.
Smoothness
It can take a few tries to get used to using a straight razor or safety razor. Once you get the hang of it, you will never have a closer shave. A well-made single blade is more effective than three middling edges raking across your face. A good, brush-lathered face soap will create a slicker shave than aerosol foam.
Variety
For all the new shaving products flooding the market, there isn't much selection. Popular brands like the aforementioned Harry's have a slate of cartridges and handles, and their shaving creams – while decent – aren't markedly better than the conglomerate-made stuff we used as teenagers.
Once you enter the world of wet shaving, your options explode, and the products are much finer. For example, there are countless shave soaps. Some are new; others have been around for over a century. These soaps contain superior ingredients like shea butter and moisturizing carrier oils.
There are scores of fine cartridge-based shaving startups out there these days, but we find it truly cool that more shavers are finding their way to the classics. Companies like Merkur and Muhle never went away, but they are suddenly more popular than ever!
Merkur's Century of Renown
Gillette patented the safety razor in the first decade of the 20th century. Yet, the design of a metal handle with a detachable head had been evolving since the late 19th century. Indeed, as early as the 1870s, German emigres Frederick, Otto, and Richard Kampfe developed an early safety razor called the Star Safety Razor.
Beginnings in a City of Blades
Around the same time, across the pond in the metalworking mecca of Solingen, Emil Hermes was making his own replaceable-blade steel razor. Because there was another blade maker in town named Hermes, Emil named his company Merkur Stahlwaren after the Roman equivalent of the messenger god Hermes (aka Mercury).
Established in 1896, Merkur first made straight razors, but Emil Hermes quickly began thinking about an upright razor with a perpendicular blade. His first model had a 4 cm steel wedge that cut from one side along an open safety comb. This razor, while not identical to a double-edged safety razor, had much in common with the model Gillette would soon patent.
Crafting a Legendary Razor
By the early 1900s, Merkur perfected its two-piece, double-edged safety razor. The success of this model all but ensured its success as a business. Soon Emil's sons Erich and Hans joined the company. In the first half of the 20th century, they introduced a line of plastic safety razors and accessories like fitted leather holders. 
However, Merkur's core product remained the same: an open comb, double-edged safety razor, which was chrome-plated with a short, textured handle. The most famous of its products, the Merkur 34c, is essentially the same razor Emil designed at the beginning of the last century. The 34c remains a favorite of wet shavers of wet shavers the world over.
In 1996, the Solingen razor distributer DOVO, already a major client of Merkur, purchased the company. The Hermes family had sold their father's company some decades earlier. Luckily for them and for many shavers, the integrity of Merkur products remained constant.
Muhle – Navigating Hot and Cold Wars
In 1945, amid the ruins of the Second World War, Otto Johannes Muller returned to his home in the Ore Mountains in Germany. He decided to start a men's grooming business but lacked much seed capital. So, out of a washroom, he began washing animal hair bristles for shaving brushes. Soon, he was producing his brushes under the imprint Muhle.
Muhle shave brushes became a sensation. By the 1960s, the Muller family exported to 36 countries and were moving forward producing safety razors. A traditional Muhle safety razor is not so different from a Merkur 34c. Muhle razors come in two-piece (where only the top of the razor head pops off when you need to change the blade) and three-piece (where the head fully disassembles) options. They have steel frames with chrome coating.
Unlike the Merkur design, the shaving comb on many Muhle razor heads is closed with a safety bar. This bar makes the comb slightly less effective by reduces the chance of cuts for new users.
In 1965, Otto Johannes Muller passed away, and his son assumed control of operations. It was the height of the Cold War, and Muhle found itself in conflict with the East Germany government. Under pressure, they relinquished control to the state in 1972.
From then until the fall of the Berlin Wall in 1989, Muhle was publicly owned. Since then, it has returned to the hands of the Muller family. Johannes's grandsons Andreas and Christian now lead the company. Their current factory is in the southeast of Germany, near the Czech border. It employs about 70 workers, skilled in the art of brush and razor design.
Despite these challenges, Muhle has developed a reputation for top-tier shaving tools. The only German company with a comparable pedigree is Merkur. 
Each Company's Offerings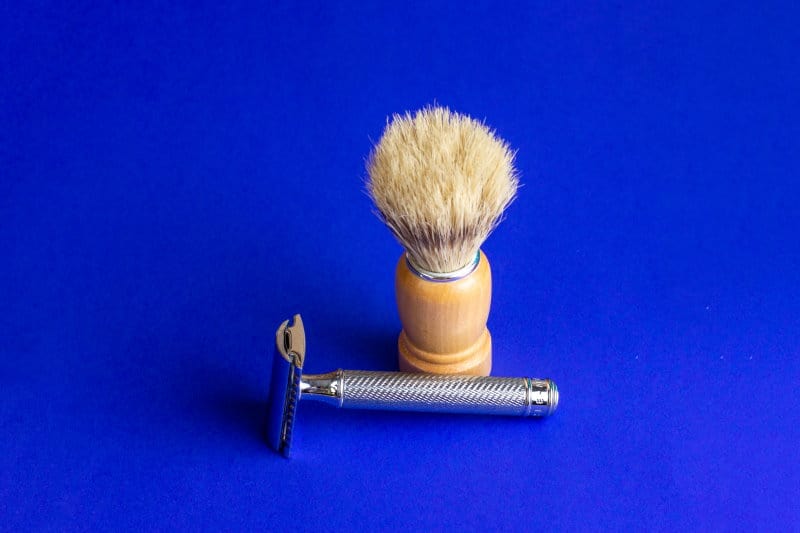 If we are to compare these two storied brands, we must first consider what each has to offer today. After all, the value of a brand is not just the renown of its best product. A great brand must have a high-quality catalog. So, let's compare Merkur and Muhle's lineups.
Merkur's Products
In total, Merkur Stahlwaren's catalog is focused almost exclusively on its razor line. Emil Hermes and his family were blade makers by trade. It stands to reason their company should focus on dual-edge shaving.
We already mentioned the much-hyped Merkur 34c safety razor, its most popular and prominently marketed two-piece razor. Among its other two-piece models are a couple of longer handle options. These might prove better options for newer wet shavers who want an easier grip.
Merkur also makes three-piece safety razors. Loading a three-piece model can be more cumbersome, and we don't recommend them for beginners. With that said, they are a bit more affordable than the 34c and its brethren.
Merkur's catalog is far from staid. They have a section of Futur safety razors, the closeness of which can be calibrated for your face. There are slant bar models as well. This design takes a bit of inspiration from the guillotine. By shaving on a slant, they more cleanly slice stubble. Merkur also makes travel-sized razors. 
In terms of accessories, Merkur has only razor stands and blades.
Muhle's Products
Given Muhle's origins as a brush maker, it doesn't surprise us that their catalog is more holistic. The company's core items are still shave brushes and safety razors. But they sell a lot more than that. A guy can put together a full shaving kit from their store.
Let's begin with the razors. While Merkur has several safety razor product lines with two to four models, Muhle has a veritable smorgasbord. Its Traditional R89 Double Edge Safety Razor could be considered a base model. It's a three-piece, closed comb safety razor, steel with a chrome finish and some grippy texture on the handle. It retails for about the same as the Merkur 34c.
From there, Muhle's razor alternatives expand in elegance and price. You will find copper, resin, oak, and porcelain handles, to name but a sampling. The heads come in two- and three-piece options, as well as open and closed comb. With a razor brand as well-regarded as Muhle, it's exciting to have a selection this varied and well-executed.
Muhle's 75 years of shave-brush-making manifests itself in a robust catalog. You can find models with badger, silvertip badger, and synthetic bristles. Handles come in wood, stainless steel, and resin. These brushes are first-rate, and they are priced as such. One brush might cost you as much as a full shave set from another outlet.
Muhle has made inroads into the cartridge razor game. They also have an impressive selection of shaving and skincare products, including creams, soaps, balms, and lotions. Considering the high price-point of Muhle's other products, we were surprised at how affordable these items are, especially considering they contain great ingredients like shea butter, aloe vera, argan oil, and Vitamin E.
How Muhle and Merkur Match Up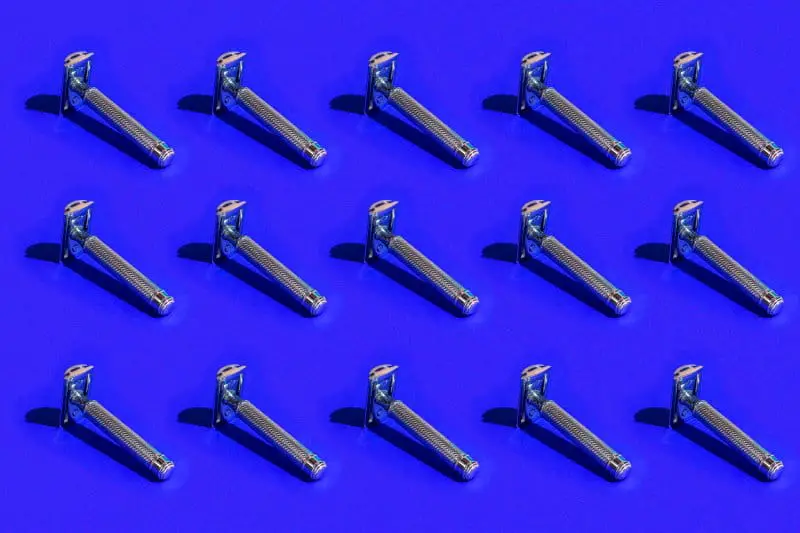 The time has come. We've reviewed the histories of these pioneering brands. We have reviewed their slate of products and discussed each company's strengths and weaknesses. Now, let's get into who wins on a series of metrics, pitting Merkur vs. Muhle! 
1. Core Craftsmanship
This is perhaps the toughest assessment metric because both companies sit in rarified air for wet shaving tools. Muhle's brushes and safety razors are must-own items for dedicated bowl-and-brush shavers. Even so, we give the advantage, of only by a hair, to Merkur. They all but invented the two-piece open comb safety razor over 100 years ago, and their products reflect that amazing craftsmanship.
2. Selection
Muhle wins this one, running away. Safety razors, cartridge razors, shave brushes, creams, soaps, and ointments – they do it all! What's more, they have an excellent selection in each category! Merkur's expertise is deep, but it's quite narrow.
3. Design
It almost hurts us to say it, but Muhle is the clear winner here. Their products just look fantastic. Sleek but elegant, classical and modern, all at the same time. This judgment is painful because Merkur's aesthetic is peek mid-century shaving. You can't help but feel a bit like Connery-era James Bond while shaving with a Merkur 34c. Even so, that's not enough to best Muhle.
4. Price
This one is a push. Both Merkur and Muhle products are high-end and priced that way. A limited-edition porcelain Muhle razor might be pricier than anything on Merkur's catalog, but all their core products are about the same rate.
The Verdict
With all these variables in mind, we must give the edge to Muhle. If you have just started wet shaving and want to step up to the big leagues, you can get the best of everything at the Muhle shop. That said, if you wanted to buy a Muhle shaving brush and soap but use a Merkur 34c, we wouldn't blame you. That might be the best of both worlds! 
If you want to learn more about the myths and benefits of wet shaving, check out one of our other articles on the subject.
Should You Shave Your Chin When Gro...
x