If you have perused the men's shaving and grooming aisles at your local grocery or pharmacy in the last few years, your eyes might have been drawn to the clean white packaging of Cremo. This men's toiletries brand has seen a meteoric rise in popularity since its 2005 founding. Cremo's reputation is for high quality and affordable pricing. It's beard oil, in particular, has found plaudits among budget-conscious beardsman. But does it deserve the hype?
On average, we are hard-pressed to find a better beard oil at its price-point than Cremo's. From its deluxe ingredients to its vibrant aromas to its easy, absorbing application, this oil is fantastic. It deserves every bit of praise it has received.
Now, let's dig into the Cremo company: it's origins, its mission, and its slate of products. Then, we will do a full Cremo Beard Oil review, showing why it might just be the best oil available. 
The Unstoppable Rise of Cremo
In 2005, Mike Boone and Kyle Schroeder founded Cremo. 
Boone is a graduate of Stanford and Oxford who spent the first two decades of his professional life developing architectural and interior design finishes, from furniture to lighting. Perhaps the most significant contribution Boone made to the modern workspace: the whiteboard. That's right. One of the founders of Cremo invented the dry-erase whiteboard.
Meanwhile, Wharton grad Schroeder had a background in sales. He consulted for many designers and companies across the US, but eventually he returned to Los Angeles. There, he hooked up with Boone. Boone was convinced there was a gap in the market for a high quality, barbershop style shaving cream. 
In Search for the Perfect Cream
That contention led to Cremo. The company started fifteen years ago with its original shave cream. This was a soothing, hydrating, tube-fed cream; it allowed a slick, protective shave. Plus, it didn't lather, so a little went a long way. Bear in mind, this is 2005. Back then, dudes were used to slathering on gobs of aerosol foam to get a moderately smooth shave.
Expanding and Growing
Cremo's shave cream was a hit. Soon, the company was releasing cooling mint and tropical versions. By 2015, the company was clocking about $2.5 million in sales. They brought in Matthew Biggins, a marketing executive at Nestle, as CEO, and the brand exploded. They expanded beyond shaving into men's bath, styling, fragrance, and – of course – beard products.
With this expanded scope, Cremo products became store shelve fixtures. From CVS to Walmart, you could find the super-clean white tubes (perhaps a nod to Boone's revolutionary dry-erase board) with their crown logo and bold serifed font. Sales, naturally, skyrocketed, topping $75 million in 2018.
Also incredibly important: in a 2020 interview with Winsight Grocery Business, Biggins confirmed the confirmed the correct pronunciation of the company name. 
"It's pronounced Creh-mo," he stated. "Some folks say it sounds like an Italian brand. But we're born and raised in the USA."
A Major Acquisition 
In August 2020, the Connecticut-based grooming and skincare conglomerate Edgewell Personal care bought Cremo for $235 million. If that seems like a mindboggling sum, it's worth noting that Edgewell previously made an offer to rival Harry's Inc. for $1.37 billion. 
Regardless, this acquisition means that Cremo is here for the long haul. They have even introduced a small line of women's shaving products.
One look at their online store shows that they are a treasure trove of hirsute lifestyle essentials.
A One-Stop Dude Grooming Shop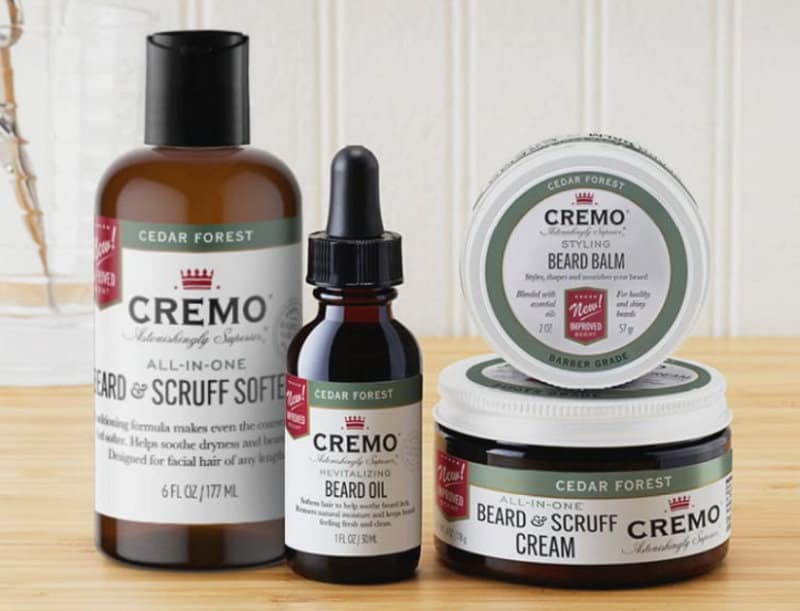 In total, the Cremo catalog contains about 100 unique men's grooming items. These include:
Shave creams and sticks

Shave balms

Beard oil

Beard shampoo and "Softener"

Beard balm

Beard creams

Body washs, shampoos and conditioners

Hair and beard dye

Cologne

Hair styling products
We want to highlight some fun and innovative items the Cremo company has brought to market.
One clever option on their site is a "solid" cologne. These products are small metal cannisters the size and shape of a breath strip dispenser. They include a pad you can rub, then you dap your finger for a little quick fragrance. According to the company, these items are sized for air travel and approved by the FAA. Plus, they are much less expensive than a bottle of Cremo cologne, the priciest item in their store.
We are also pretty compelled by the one-off hair and beard dye brush that Cremo sells. They look like a combination electric toothbrush and one of those Kiwi liquid shoe bottles with the sponges on the end. The nifty design lets you easily brush in their highly rated dye, which foams through the bristles.
But we digress. Suffice to say that Cremo has a broad range of innovative grooming products to satisfy any beardman's need.
Cremo's Unique Market Profile
In general, we think that one of the keys to Cremo's success is its market position as a deluxe product that almost any guy can afford.
Cremo products regularly rank on "Best of" lists, and they almost always do so with the moniker "most affordable." Beardsmen know how easy it is to drop thirty bucks on a beard oil or facial scrub. We are discerning consumers, after all. A cheap product is often cheap because it relies on cheap, synthetic ingredients.
Not so with Cremo's products. Scroll through any of their creams, oils, unguents, and you will be floored by the quality of ingredients. We will discuss that more as we get into their beard oil.
Moreover, the company has a steadily rotating stable of "Reserve" scents, fit to reflect a prototypical (or possibly stereotypical) men's lifestyle. Recent example is the Palo Santo collection, which draws from a mix of the smoky South American wood and a sprig of herbs. Another is the Distiller's Blend, an ode to the charred oak and spicy liquor of Kentucky bourbon.
Cremo isn't the first men's brand to focus on woodsmoke and whiskey, nor is it the first to insist on top-tier ingredients. However, they are the only brand you can buy in a pharmacy for less than a large bottle of Advil cost.
Cremo Beard Oil – What's In it?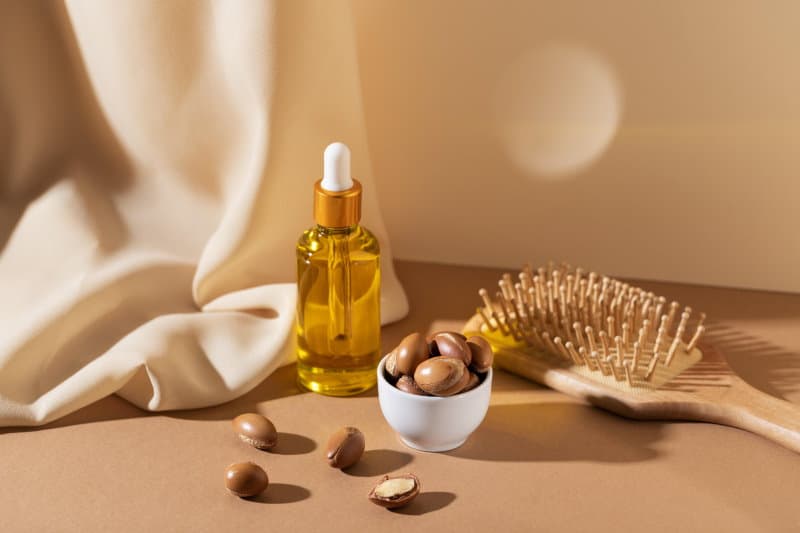 Without further ado, let's get into our Cremo beard oil review. To be clear, the company offers multiple beard oil flavors. Their stable beard oils are:
Unscented

Cedar Forest

Wild Mint

Bourbon Vanilla

Cooling Beard Oil, with Citrus and Mint
Cremo also has "Reserve" beard oil options, including the aforementioned Distiller's Blend and Palo Santo. We are happy to report that these fragrances all appear to come from natural extracts. 
But what about the operational oils. As we've discussed in prior posts, the most important thing to look for in a beard oil is what type of carrier oil it uses. Carrier oils comprise nearly 100% of beard oil. Plant and seed derived, these oils absorb easily in to hair and skin both. They moisturize your face and repair damage in your follicles. As importantly, they dilute the more abrasive essential oils that impart aromas.
What carriers are in Cremo's beard oil line? The short answer is: some of the best.
Topping the list is

sunflower seed oil,

which is great for sensitive skin, both dry and oily. Sunflower seed oil is know to soothe irritated skin and help it retain moisture. Both these are clutch for beardsmen, since hair-covered faces are prone to irritation.

Next is

avocado oil

. This, you probably won't be surprised to hear, is a wonderful source of rich fatty acids, imparting Vitamin E and potassium.

Jojoba oil

is, in many ways, the calling card of high-end beard products. Jojoba is a shrub from the American southwest. The oil drawn from its seeds is wonderful conditioning hair and treating skin problems like acne and eczema.

Then, there'

argan oil

. This is one of the staples of luxury moisturizers and hair hydrators. Argan oil is loaded with antioxidants and known for its anti-inflammatory properties. It's especially adept at durably coating hair follicles.

Finally, we have

coconut oil

, which is an excellent all-purpose emollient. It is extremely effective imparting moisture to both skin and hair.
In a good skin or facial hair product, you could expect to find two or three of the carrier oils listed above. It's out of this world to find a beard oil with all five. In all, the body of Cremo's beard oil line is superior.  
Consistency and Aroma
With that hefty inventory of carriers, you might think that Cremo Beard Oil will be viscous as the oil you put into your car engine. The truth is exactly the opposite.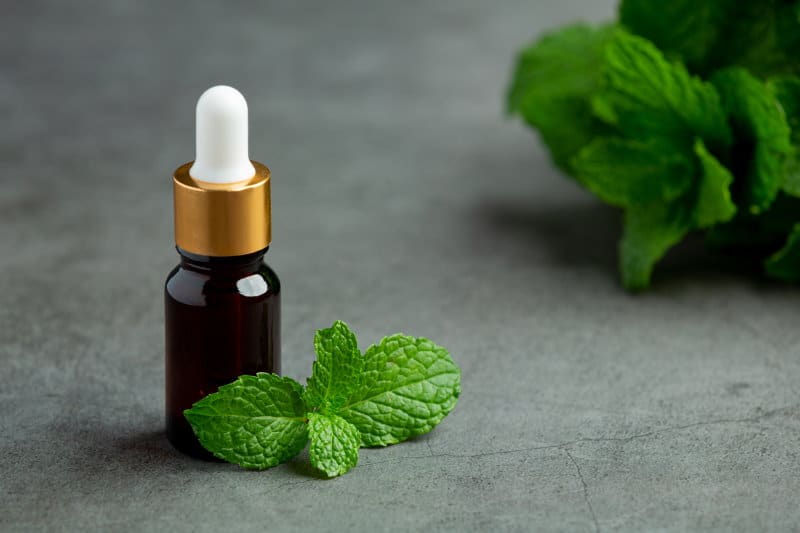 Of the five carrier oils listed above, only avocado oil has a somewhat thick consistency. Sunflower, argan, coconut, and jojoba oils are all incredibly thin. As such, Cremo beard oil has an incredibly delicate consistency. It is light on your fingertips and seems to evaporate as you massage it into your face and beard.
The aroma of your beard oil will, of course, depend on which item you select from Cremo's product line. Here's our assessment of three of the company's core flavors.
Cremo Cedar Forest Beard Oil
Cedarwood is a strong aroma. Incorporated too liberally, it can overwhelm everything around you, leaving your beard smelling like an air freshener. Luckily, this oil has just the right amount, cut with a decent helping of rosemary. The cedar presence is felt distinctly, but it incorporates itself into your natural musk easily. The ostensible eucalyptus top note is nowhere to be smelled. 
Cremo Wild Mint Beard Oil
This is a classic combination: tea tree and peppermint. Soothing and cooling, relaxing and invigorating – it's hard to beat the interplay of these to essences. Mix in a bit of rosemary, and you have a pleasantly subdued mint-infused facial product.
Cremo Bourbon Vanilla Beard Oil
What the company calls an "organic bourbon blend fragrance" is seems to be some combination of citrus, cinnamon, nutmeg, vanilla, and clove. This is definitely the smoothest of Cremo's core beard oils. Imagine Maker's Mark with all that astringent alcohol removed, and you have a good sense of the aroma.
While we unfortunately did not have the opportunity to try either the Palo Santo or the Distiller's Blend reserve oil, we are undoubtably interested. If you want some information about those specific fragrances, check out the excellent YouTube video reviews below.
Cremo Distiller's Blend Series Review
Cremo Palo Santo Series Review
The Cremo Effect on Your Beard
It's easy to get bogged down in the aroma of beard oil, but remember: fragrance is a small part of what makes beard oil such a vital component in your facial hair care kit.
First and foremost, you wan a beard oil that with hydrate your beard and moisturize your face effectively. Ensuring quality, long-lasting hydration through oil-application can prevent a lot of negative beard-related issues, like brittleness, face rash, and acne.
In this regard, Cremo's beard oil is top of the line. It's thin consistency and high-end carrier oil blend mean that is absorbs quickly and fully. With a few drops, your beard and face will stay hydrated for the day. No need to reapply multiple times a day!
Cremo Beard Oil's light body also mean that you won't have that unsightly greasy look to your face mane. We found that the oil left the beard looking full and thick, with just a little bit of luster.
As a general rule, beard oils are not styling products. They can slightly tame and soften your facial facial hair, but they don't do much for shaping. The one downside to Cremo's thin consistency is that it does almost nothing to control your facial hair. If your beard was wild and springy before application, it will be just as unruly after the oil is in.
Consequently, you will likely need to pair Cremo Beard Oil with a styling product like a cream, balm, or butter. For raw hydration and healthy appearance, though, it's hard to beat Cremo's oil.
The Best Way to Apply Cremo Beard Oil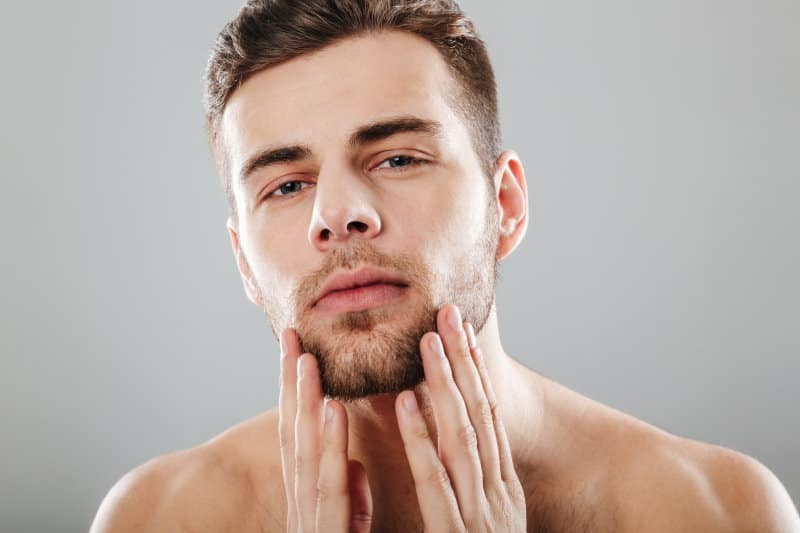 You should always wash your beard before applying beard oil. We recommend you give your facial hair a good scrub with an enriching beard-specific shampoo and conditioner. Don't wash with scalding water, as this will purge your face of the natural oils it needs and compel your sebaceous glands to overproduce new oil.
Your beard should be fully dried before you apply Cremo Beard Oil.
Cremo Beard Oil comes in a one-ounce tinted glass bottle with a dropper cap. Don't drop oil directly into your beard. As a rule, your goal should be to work the oil into both your hair and skin. The best way to do this is to put four or five drops of oil on your fingertips.
Massage Cremo Beard Oil through your beard and into your face. If you have a particularly large pelt, you may need to use a few more drops. As we mentioned, this oil tends to absorb quickly. Still, you should be careful not to over-apply to avoid unsightly shininess. 
Finally, give your beard a good brush to make sure the oil is fully worked through. You might find that the result is a nice natural look. If you're facial hair is still looking wild, try calming it with a styling product. Cremo has plenty of option, and you can group them by scent profile on the website. How helpful is that?
How Does Cremo Stand Up Against Other Brands?
As you can probably tell form our review, we think Cremo Beard Oil is one of the best products available. The question stands, how does is it compare to other well-loved beard oils.
Certainly, there are scores of great oils on the market. Let's look at four popular options that you can buy at men's boutiques and luxury outlets, paying close attention to their carrier oils:
| | |
| --- | --- |
| Beard Oil | Carrier Oil |
| Art of Shaving Initiative Oil | Olive Oil, Grapeseed Oil, Jojoba Oil, Meadowfoam Seed Oil, Rice Bran Oil. |
| Jack Black Beard Oil | Argan Oil, Olive Oil, Jojoba Oil, Sunflower Seed Oil, Soybean Oil |
| Baxter of California Beard Oil | Prunus Armeniaca Kernel Oil, Olive Oil, Apricot Oil, Avocado Oil |
| Tom Ford Beard Oil | Grapeseed Oil, Jojoba Oil, Sweet Almond Oil,   |
As you can see, these high-end products contain many of the same base oils that Cremo does. Some have more elaborate mixtures, and all have intensely calibrated fragrance profiles. The aromas are far more complex than Cremo Beard Oil.
Bear in mind, though, that these oils cost three to six times more than Cremo's products, and they often are much harder to track down.
The Verdict
We stand wholeheartedly behind out assessment that Cremo Beard Oil is one of the best beard oils on the market today. You will not find another product of its quality for so low a price, so widely available.
In general, the Cremo company has a fantastic slate of products that every beardsman should check out. We can't wait to see what they come up with next!
Cremo is not the only men's grooming brand we have reviewed this year. Why not do some comparison shopping and check out our review of Viking Revolution's product line?
Should You Shave Your Chin When Gro...
x