Beard butter is an excellent conditioning product for hairy-faced gentlemen. It softens and nourishes facial hair without leaving too much shine or weight. Of all the beard butters on the market today, Maestro's Classic Beard Butter is one of the best-regarded. Considering how popular this product is, we think it's fair to ask, is it the best butter on the market?
Without a doubt, Maestro's Classic makes an excellent product. Their beard butter uses mostly good ingredients. It adheres well and blends cleanly. That said, it is neither the most affordable nor the most luxurious beard butter around. Maestro's Beard Butter is a good product for beginners.
You might have questions about the overall value of beard butter and how Maestro's stacks up against its competitors. We have answers for you! Read on for a deep dive into this popular product.
What is Beard Butter?
Essentially, beard butter is a soft leave-in conditioner specially formulated for facial hair. The most common bases for beard butter are either shea butter or cocoa butter. Some beard butter uses mango butter as well.  All three of these bases have anti-inflammatory qualities, and they contain lots of antioxidants, vitamins, and minerals.
This buttery base is generally whipped with multiple emollient carrier oils. These oils absorb readily into both skin and facial hair, repairing and moisturizing it. Some of the most popular carrier oils are:
Argan Oil

Avocado Oil

Castor Oil

Coconut Oil

Grapeseed Oil

Jojoba Oil

Olive Oil

Safflower Oil

Sweet Almond Oil
In addition to butter and emollients, you will undoubtedly find essential oils that impart fragrance to your beard butter. These essences create a subtle, pleasing aroma for your beard. Additionally, some essential oils like tea tree oil offer therapeutic and soothing qualities.
Hang on … Isn't that the same as Beard Balm?
We understand why you might think that. Both beard balm and beard butter (and beard oil, for that matter) are conditioning agents for your facial hair. They contain many of the same ingredients as well.
However, there are some critical differences between butter and balm. In terms of their compositions, beard balm contains wax, most often beeswax. The wax makes beard balm much more solid than beard butter. You can pretty quickly swipe some beard butter from a tin and run it through your beard. Beard balm requires a little more pressure and effort to emulsify. You might even find that you need a beard brush to work it through your facial hair effectively.
These divergent thicknesses reflect different functions between these two products. Beard butter is handy for softening facial hair. It is a straight-up conditioning agent. On the other hand, Beard balm provides better hold and weight. It's better than butter at taming your unruly thicket and repairing split ends.
If you want to dig deeper into the difference between these two products, check out our full article on the topic. 
Why is Beard Butter so important?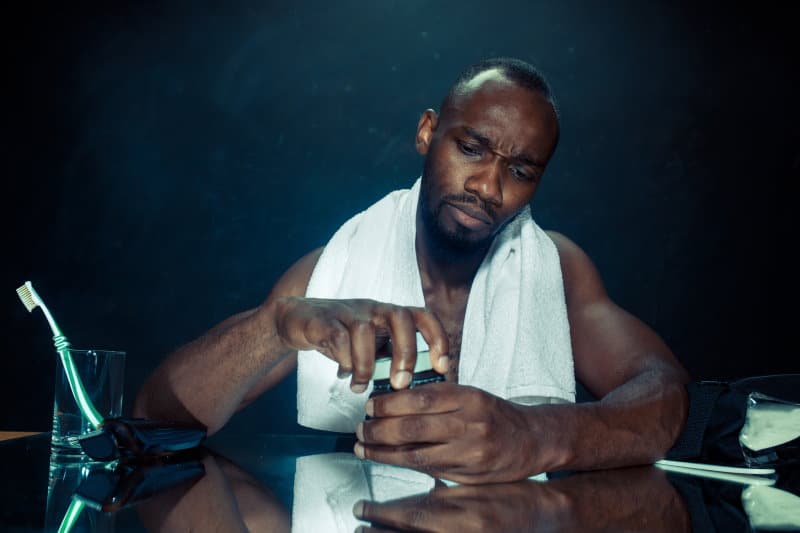 Should You Shave Your Chin When Gro...
x
Ever notice that your facial hair is super-coarse, curly, and not unlike certain other hair on your person?
The reason is that your beard is made of androgenic hair. Androgenic hair only emerges with the release of testosterone at puberty. This kind of hair – as opposed to, say, the hair on your head – tends to be spring, curly, and wiry.
That brings us to the importance of beard butter. Its fantastic combination of soft, soothing butters and hydrating oils is great for your beard. It softens and lightens your facial hair, making it much nicer looking and pleasing to the touch.
As a conditioning product, beard butter's purpose is two-fold: nourishment and style. Your beard and face will benefit substantially from its refreshing ingredients. At the same time, your facial hair will look and feel better, full stop.
Of course, you must choose the best beard butter if you want the best results. Which brings us to the question we started with: is Maestro's Classic Beard Butter the best?
What's the Story with Maestro's?
Maestro's Classic entered the beard care market in 2014. Founded by Anthony Spadafora in Bristol, Pennsylvania – just outside Philadelphia – the brand has grown exponentially in the last seven years. In addition to achieving prominent placements at Target and other major retailers, Maestro's also has some prominent partners.
They are the beard care brand of choice for both NASCAR and the WWE. Unsurprisingly, their products are also used by the Philadelphia 76ers. 
The company also actively promotes a charitable fund for mental health awareness, Nameless Lady Liberty.
Overall, Maestro's is known for the quality of its beard butter, which regularly appears on men's grooming "best of" lists.
Does Maestro's only make Beard Butter?
Far from it! Maestro's Classic retails a fairly robust selection of products for your face, beard, and hair. The catalog includes beard washes, beard oils, and "beard recovery" conditioners. They also make several hair styling products.
In total, you can think of the Maestro's Classic catalog as containing a decent selection of washing and grooming items that you can group according to their aromatic blends.
The company's trademark blends include:
The Maestro's Classic products come in almost all of these blends, subject to availability. Yet, beard butter is their headline item. Let's dig into its pros and cons.
Maestro's Beard Butter – What is in it?
As with all beard products, you can break Maestro's Butter into its bases and its flourishes. The base ingredients heal and hydrate your skin and hair. The flourishes provide aroma and extra benefits. We will go through each category and see how the elements size up.
The Base Butters
Maestro's product uses a mix of shea butter and cocoa seed butter as its base. These ingredients are de rigor in the world of creamy beard products. This isn't a dig; shea and cocoa butter are popular because they work well. We fully approve of this choice.
The Emollient Oils
Mixed with the butters are three emollient oils:
Castor oil

Coconut oil

Crambe Abyssinica seed oil
Candidly, these are not the most luxurious carrier oils out there. Castor and coconut oils are excellent moisturizing options, but they are pretty inexpensive and unremarkable. Crambe Abyssinica seed oil is more interesting. It is more unusual in beard products, but it has a reputation for soothing red or irritated skin.
We are neither enthralled nor disappointed by this slate of base emollients. It's also worth noting that both coconut and castor oil are listed before any kinds of butter, indicating that this is a more oil-forward product than you often find in the beard butter realm.
Essential Oils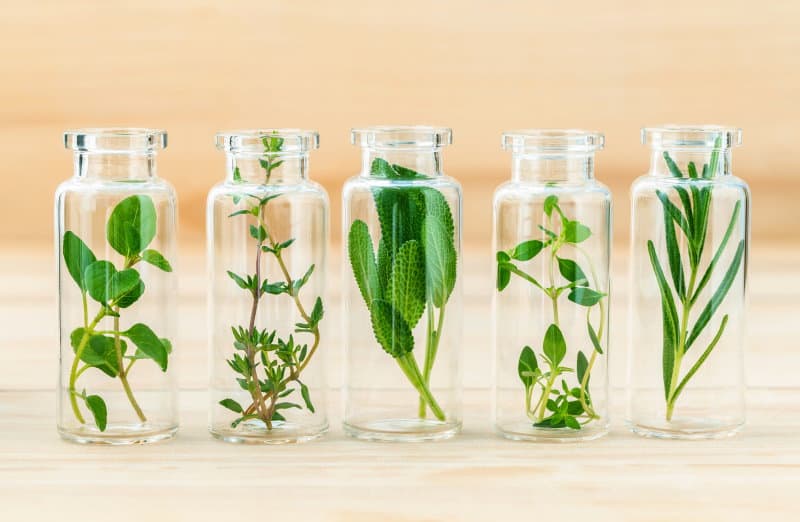 For the most part, Maestro's Classic Beard Butter takes its fragrance from essential oils. They include:
Eucalyptus

Grapefruit

Juniper

Mulberry

Pepper

Rosemary

Rosewood
There are also artificial fragrances listed in the ingredients. This is not necessarily a dealbreaker. Many high-quality beard products contain fragrances, and many awful products are 100% organic.
On average, these products seem to lean harder on essential oils than synthetics. One exception appears to be their Speakeasy blend. This aromatic profile looks to be composed entirely of artificial fragrances.
Other Ingredients
As you can see, the primary components that go into Maestro's Beard Butter are suitable, though not exceptional. Now, let's get into some of the tertiary ingredients. This list is a more decidedly mixed bag. It includes:
| | |
| --- | --- |
| Glycerin | A great addition to any skincare product. This humectant draws moisture to the surface of your face.  |
| Phenoxyethanol | This is a stabilizing agent used in place of parabens. It's harmless and undetectable. |
| Water | Water is good for you, right? Technically, yes, but we don't like it in our beard products. It should not be necessary for beard butter. |
| Caramel Coloring | This gives us pause. Perhaps some market testing determined that the beard butter needed to look warmer and more "natural." Whatever the reason, we don't love having dye in our beard conditioning product. |
Taken together, the components that make up Maestro's Classic Beard Butter are decidedly middle of the road. There are some things – like water, artificial coloring, and fragrances – that concern us. Everything else is either neutral or nice.
The only way to know for sure if the butter works well is to give it a test drive!
Consistency
Let's start by noting that we tested out the Modest Beard Butter. So, we won't be discussing any of the fancy aromatic blends. The Modest product has a pleasant semi-sweet oil and butter scent. It's inoffensive and disappears entirely as you blend it into your facial hair.
Running your fingers through the butter, the presence of water and high oil quotient are pretty apparent. Simply put, this does not feel like beard butter. It feels more like lotion or hair cream. That isn't a demerit, mind you. There is no golden consistency that beard butter is supposed to have.
Still, it makes us wonder how much of this product will be necessary to condition the beard and face fully. That concern is doubly present when you consider the prevalence of water in this product. Exactly how much value are you getting from this butter?
Application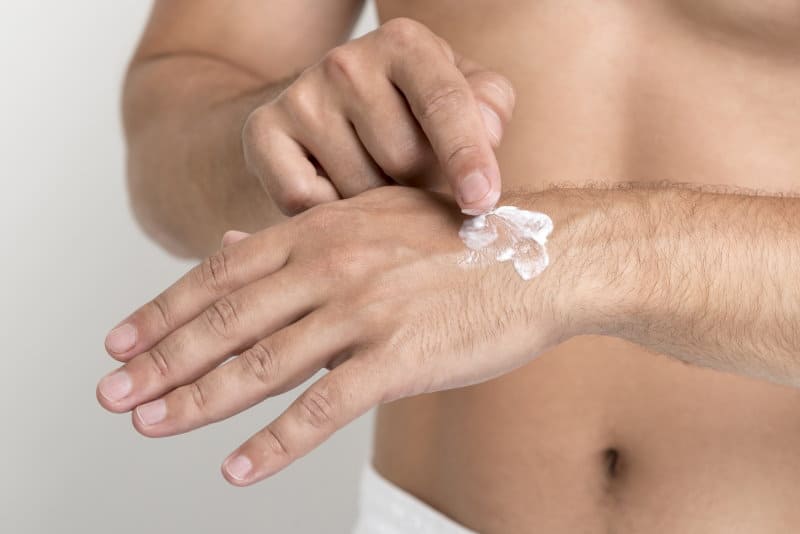 Maestro's Classic Beard Butter spreads evenly and slick on your hands. One thing we can say in favor of this product's thinner, more watery consistency is that you won't have much residue on your fingers after application.
Running Maestro's Beard Butter through your facial hair is reminiscent of applying slightly heavy beard oil. It adheres quickly and absorbs in a snap. As we feared, you might have to go back to the canister a couple of times to coat your beard and face fully.
Still, considering the moderate price-point of this butter, that is not the end of the world. 
Appearance
Here, we get a glimpse of why Maestro's Beard Butter appeals to so many beardsmen. This beard butter blends beautifully, creating a vibrant, textured, pillowy effect. It provides virtually no hold, but then again, that's not what you use beard butter for.
Despite its hand-lotion consistency and high oil content, it did not leave a greasy sheen. Quite to the contrary, it disappeared almost completely. All it left behind was a healthy, full thicket of hair. In that regard, we cannot pick nits. Your facial hair will be on point.
Overall Effect
We have been open about our misgivings with this product. Its ingredients run the gamut from passable to head-scratching. It seems unnecessarily light and watery. However, once applied to the beard, this butter gets the job done.
Your beard will feel softer and healthier, with no oiliness or clumping. If there's one word we would use to describe the overall effect of Maestro's Classic Beard Butter, it would be mutable. That's an underappreciated quality for beard care. As a general rule, you want the effect of the product without the appearance of the product.
Maestro's provides that in spades: a vibrant, soft, moisturized beard without any apparent product. That's a winner!
On the other hand, we wish this beard butter provided its effect with a little less product. We wonder how much utility you could get from Maestro's Beard Butter if that water weren't in there.
Quick Tips for Applying Beard Butter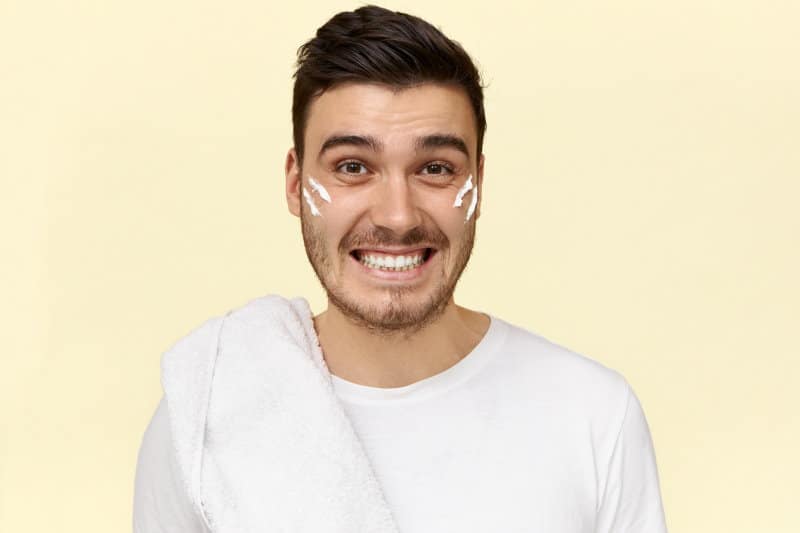 If you're looking to invest in some Maestro's Classic Beard Butter, allow us to offer some quick tips to perfect your application process. Here are some things to keep in mind:
Make sure you have just washed and dried your beard before applying beard butter.

Emulsify the butter in your hands until you have a warm thin coating to apply. Don't toss globs of beard butter straight into your hair.

Make sure you apply the butter to your face as well as your beard. Beard butter will hydrate your skin, aiding in future facial hair growth.

If you have a short beard, you can massage your beard butter in by hand. For longer, thicker, wilder manes, we recommend brushing it in with a boar- or horse-hair brush.

Don't overdo it. Make sure your beard is fully conditioned, but you probably don't have to apply beard butter more than once every couple of days.
With those tips in mind, you will get the most out of your Maestro's Classic Beard Butter.
How Does Maestro's Compare to the Rest of the Field?
While Maestro's Beard Butter impressed us in the end, we had some serious qualms about it. Candidly, there are options on the market that match or exceed it. Here are three products we think you should consider in place of Maestro's.
1. Detroit Grooming Co. Beard Butter – Traverse City (Cherry Tobacco)
All-natural and well-loved, this Michigan-based company's luxurious product mixes shea butter and coconut oil. Also, this innovative fragrance smells manlier than you can imagine. It's a bit pricier than Maestro's, but you will see immediately what that extra coin buys you.
2. Live Bearded: Beard Butter – American
Perhaps no men's grooming brand on the market is as online-present as Live Bearded. Still, they have the quality to back up the hype. This cedar and bergamot scented butter is meant for big, unruly beards. It contains a beautiful mix of carriers, including coconut, avocado, sweet almond, and jojoba oils.
3. Grave Before Shave Beard Butter
Redolent of teakwood, this shea- and mango-butter conditioner has excellent emollients, including jojoba oil and pure apricot oil. It also boasts soothing aloe vera, tea tree oil, and Vitamin E. The final product primarily functions to stabilize the mixture, but it also does good things for your face and hair!
If you find yourself unimpressed with Maestro's Classic Beard Butter, all three of the options above have strengths that it does not. We wholeheartedly recommend all of them.
The Verdict
Is Maestro's Beard Butter the best butter out there? Far from it. We aren't wild about a lot of its ingredients. Its lotion-light feel put us off, and we think there are better options out there. Other beard butters cost less and have better ingredients.
Does this mean that Maestro's Beard Butter is bad? Absolutely not. Despite all our concerns about it, this butter imparts a good conditioned effect in all kinds of beards. It does it without leaving any oil or grease on your facial hair. That is no small feat.
In total, we would call Maestro's a passable, middle-of-the-road option for people looking for their first beard butter. 
Several times in the post, we mentioned the beard-friendly qualities of cocoa butter. If you want more in-depth information on this product's beneficial qualities, read our recent article about it.