We often hear a lot of talk about oils in the facial hair community. Some have argued that you don't need essential oils since your face already produces its oils, others that have tried and tested say otherwise.
Essential oils for facial hair can be indeed helpful. They provide an abundance of nutrition to the skin under the facial hair. The oils offer exceptional stimulation around the facial hair area, which essentially promotes hair growth.
Stick around if you're interested in finding out more about essential oils for facial hair and how they can level up your beard care routine.
Are Essential Oils Good for Facial Hair?
If your face already produces oil in the first place, why bother using essential oils? Well, essential oils are an excellent booster for your overall facial hair health.
They not only give you hair growth potential but can also tame that frizz and produce relaxing aromatic fragrances that can make you feel like you're at the spa.
These benefits are especially helpful if your facial hair is exposed to several pollutants from the environment as well as certain issues like beardruff or bear dandruff.
Best Essential Oils for Facial Hair
The good news is that there's a great number of essential oils you can choose from. If you feel like reaping the benefits of two of the oils, guess what? You can blend them along with a carrier oil to produce the ultimate beard oil.
Here are some of the best essential oils for your facial hair.
Lavender Oil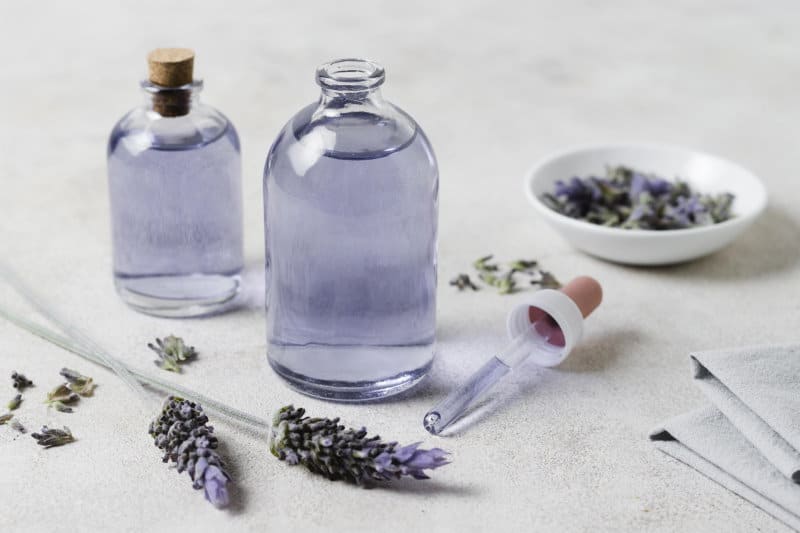 Originally, lavender oil was used as a medical treatment for microbial infections. To this day, this essential oil is revered as an antifungal product for your skin and hair. That means it can keep tinea barbae at bay, which is a common beard hair fungal infection.
On top of that, you could apply lavender oil before you sleep to get a good night's rest. You won't have to worry about the constant itchiness as well.
By providing adequate skin health, the essential oil is likely to encourage facial hair growth. Since it's also composed of vitamin e, the oil will act as a natural antioxidant to your skin, which can prevent blemishes and acne from forming.
Tea Tree Oil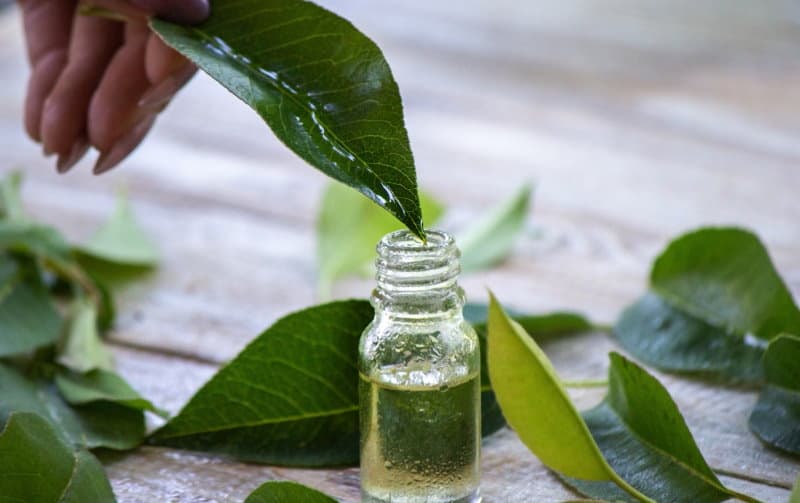 If you're looking for a refreshing essential oil, look no further. Tea tree oil when applied will instantly feel soothing on your skin. It'll feel like you've put a cold press on your facial hair.
Considering that you feel the tea tree oil work around your skin, this stimulation and activity naturally invigorates your beard follicles and prompts facial hair growth.
Is beardruff getting you down? Tea tree oil has got you covered. The essential oil will supply your hair with moisturizing properties to keep those flakes and itches at bay.
Apart from hair health, tea tree oil also helps avoid acne and blemishes on the skin under your facial hair. You can't go wrong with this essential oil.
Peppermint Oil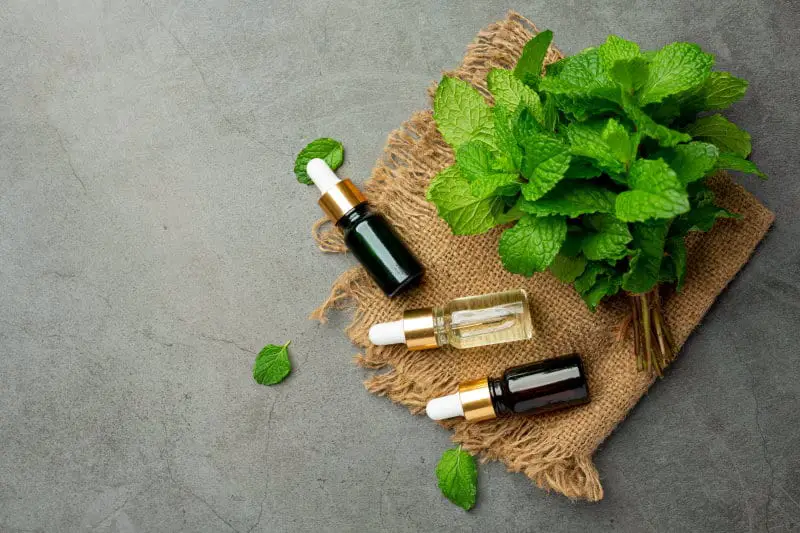 You might want to use essential oils, specifically for their scents. We believe peppermint oil would be the best one on the list in terms of fragrance quality.
If your beard is starting to look a little patchy, you can use peppermint oil to restore it to its former full beard glory.
Once you put the essential oil on, you'll understand how vitalizing it can be. This effect, in turn, increases blood flow around the facial hair area which will yield better hair growth results.
Rosemary Oil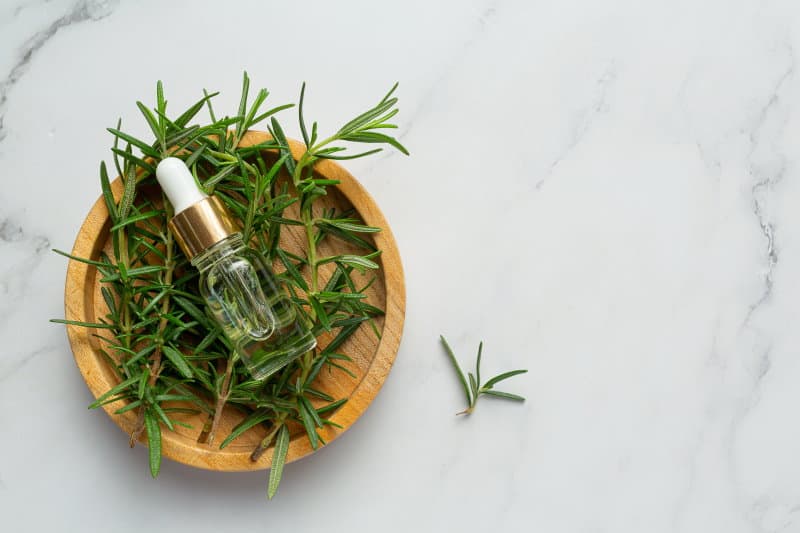 Facial hair tends to get itchy at some point. Thanks to rosemary oil's anti-inflammatory properties it will suppress any itching you feel on your facial hair.
This essential oil aids in hair rejuvenation and nerve development. According to scientific research, the carnosic acid found in rosemary oil is responsible for remedying any tissue and nerve complications that can hinder follicle growth.
The famous minoxidil medication used to treat androgenetic alopecia was found to be less effective than using rosemary oil.
How Do You Use Essential Oils for Facial Hair?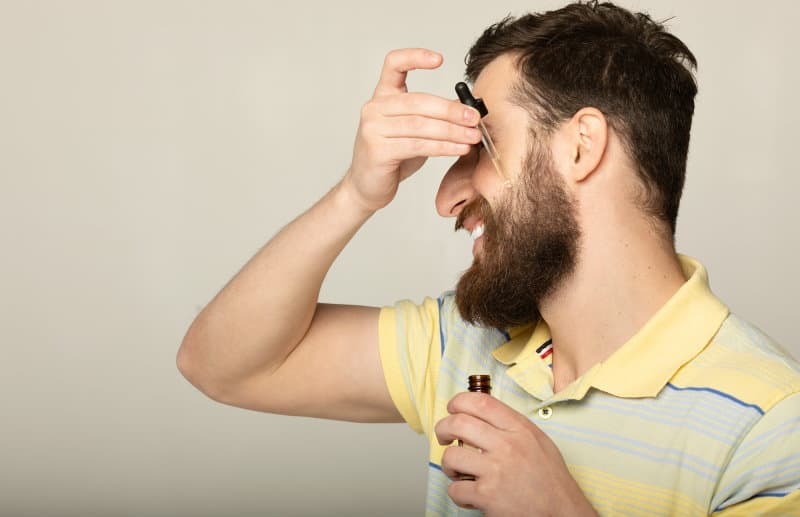 The process might seem straightforward where you purchase the essential oil and simply apply it, but it requires a few more steps. Check out our helpful step-by-step guide below on how to use essential oils for facial hair.
Step 1: Prepare the Oils
The first thing you want to do is decide which oils are going on your facial hair. To make that decision, you'll need to understand what your skin needs. Are you looking to moisturize, promote hair growth, infuse nutrients, or just want to smell good?
All these questions will give you a rough idea of which essential oils you should be looking at. Luckily, most essential oils are ideal for facial hair growth like lavender, tea tree, and rosemary. If you want to feel fresh, then maybe opting for peppermint oil is a better option.
Once you've laid down your list, your local grocery store or online shop should be able to get you the essential oils you need.
Step 2: Blend the Oils
As a general rule, you don't want to use purely concentrated essential oils in one go. Dilution is crucial so you don't risk too high of a toxicity level.
That's why it's always a good idea to use carrier oils as a base for your essential oils. There are a lot of choices out there for carrier oils that can contribute additional benefits to the overall mixture.
Some of these carrier oils can include coconut, jojoba, olive, sweet almond, argan, rosehip, black seed, avocado, sunflower, and grape seed oil.
Each of these oils brings forth varying nutrients that can moisturize and heal both facial hair and the skin under it.
When it comes to portions, you could add a couple of tablespoons of the carrier oil accompanied by either one to three drops of the essential oil. Make sure to be light-handed with the latter.
Step 3: Prepare Your Facial Hair and Apply
Now it's time to prep the hair for the oils. After all, you wouldn't want to add these oils to your already greasy facial hair.
We recommend getting a good wash using beard shampoo. You can exfoliate every few days or so to unclog your pores and welcome in the nutrients in the essential oils. The oils can also help you style your beard to whichever shape you want.
Step 5: Wait for the Results
All you have to do now is be patient and the results will speak for themselves. It can take a few months to achieve the best outcome as long as you're consistent in using the essential oils.
Take note that you should properly store the oil at room temperature and make sure they're tightly closed.
To Conclude
Are essential oils helpful for facial hair? The answer is yes, you can gain several advantages from consistent use of essential oil on your facial hair.
Just pick out the essential oil that suits you the most, remember you can use more than one, and mix it with the carrier oil to get a product specifically catered to your facial hair.
Check out our article, "The 7 Best Carrier Oils for Beard Growth and Thickness" for more info on why oils are helpful for facial hair.
Should You Shave Your Chin When Gro...
x