Beard trimmers come in all shapes and sizes with different functionalities. Advancement in technology has made it possible to integrate powerful vacuum fans in beard trimmers. If you are reading this, you are probably wondering if vacuum beard trimmers really work or are just a plain waste of your hard-earned cash. Many people also ask if these devices produce consistent cuts as regular trimmers. 
Vacuum beard trimmers use detachable chambers that suck up the hairs that fall off during trimming to minimize mess significantly. Some vacuum beard trimmers are capable of vacuuming hairs as they are being cut and suctioning any remaining hair that may have fallen onto other surfaces. 
This technology makes it possible to have cleaner environments before, during, and after beard trims. But are these devices as reliable as regular beard trimmers? There's always a possibility that manufacturers are merely dishing out gimmicks instead of quality products. For this reason, it is necessary to know what to look for when you buy a vacuum beard trimmer. 
What Are Vacuum Beard Trimmers?
A vacuum beard trimmer is a beard trimmer model designed to use a suction mechanism to collect hairs that fall off during trimming. The goal is to keep the shaving area clean while delivering the best cuts possible. 
Vacuum beard trimmers are fitted with small plastic hair-collection containers that hold the hairs of your bears as you shave or trim. The containers are detachable to allow easy emptying and cleaning after trims. Vacuum beard trimmers are capable of giving consistent cuts with mustaches, beards, sideburns, and neck hair. 
With more men working hard to maintain a cleaner look, it is important to get good quality trimmers that don't just give sweet cuts, but are also convenient to use. In addition, although we're still on the subject of putting in your best to look good, many guys find it difficult to shape their mustache correctly without trimming off too much or making mistakes during shaving. If you're in that situation, I recommend this easy-to-understand step-by-step guide on how to trim your upper beard correctly.
What Are the Advantages of Vacuum Beard Trimmers?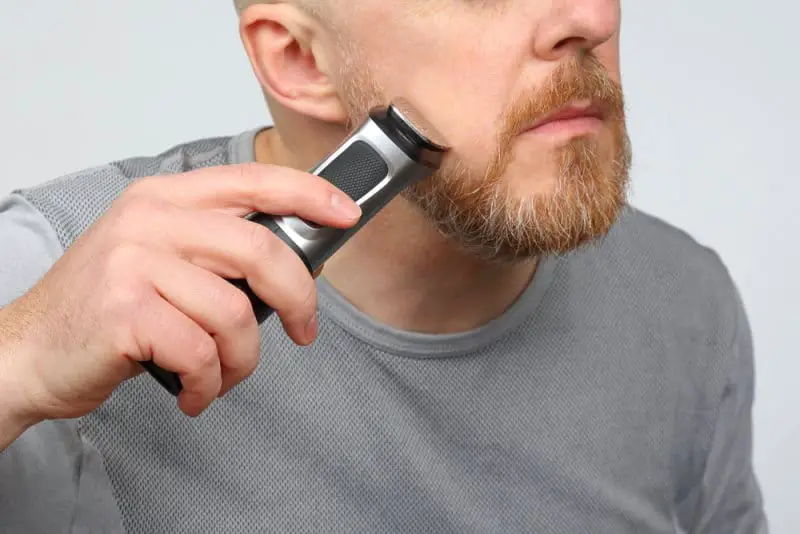 Imagine cleaning your room with a broom versus a vacuum cleaner. Although both will do the same job, the difference is glaring! The broom will sweep dirt but raise dust and other small particles. So, after cleaning, you still have to clean up the dust all over again. A vacuum cleaner doesn't raise dust during cleaning. Instead, it sucks up dirt, dust, and tiny particles, leaving your room fresh and clean. 
That's the same idea behind a vacuum beard trimmer. Although regular trimmers can line up fresh trims, they will inevitably create a mess all over the place. The result? You'll have to clean up after cleaning up!
If you are on the fence about getting a vacuum beard trimmer, perhaps the following advantages will help you make up your mind. 
For the record, if you have ever cut or shaved your beard or mustache, you have probably used a regular trimmer or electric shaver from one of the companies that manufacture vacuum trimmers. The major difference is that your preferred brand has gone a step further to deliver beyond the regular beard trimming experience.
Now, let's see why you should care about vacuum beard trimmers:
You Will Have Less of a Post-Trimming Mess to Deal With
Regular trimmers will leave your bathroom or environment covered with hair. Worse still, if you need to take a quick shave in an airport restroom or other public places, you may end up with a few stray hairs on your shirt. Trust me; you don't want to ruin your appearance with a few unsightly strands of hair on your collar when you are in a rush to keep an important appointment! 
It Reduces the Risk of Clogging Up Bathroom Sink
The more hairs get into your sink, the more likely you will need plumbing services in the near future. You've already spent so much buying a trimmer—why should you incur extra plumbing costs just to look good? With a vacuum beard trimmer, you would completely remove the chances of hairs getting into your sink and causing any problems in the future. 
And just in case a few hairs do manage to escape the fans of the trimmer, some devices are equipped with powerful suction attachments that can clean up any stray hairs. Now that's convenient trimming and cleaning at its best!
There is Less After-Trim Cleanup Work To Do
Do I really need to say anything about this? Apparently, with less mess created, your cleanup task will probably be emptying the vacuum chamber and washing it instead of cleaning your entire sink and bathroom. Besides, manual cleaning cannot be as effective as the automatic suction of these efficient devices. 
It Minimizes Hair Spills During Emptying
It is easier to empty the hair-collection chamber of vacuum beard trimmers than a paper towel, small dustpan, or whatever it is you use in cleaning up hairs after trims. All you have to do is to detach the container and pour the content in your bin without spilling hair all over the place. 
Because it doesn't produce waste—or rather, collects waste—it is quick and easy to use a vacuum beard trimmer on the move. In other words, you can use it outside your bathroom without worrying about hair going in all directions. In extreme cases, you can even use it in a car while you're hurrying to catch a flight; just make sure you're not the one driving! Your clothing and surroundings will remain as clean as before.
What is the Best Vacuum Beard Trimmer?
Okay, I know you get it already. Granted, these cute innovative devices are both efficient and convenient to use, but what are the best types?
It will be incorrect to suggest that all vacuum beard trimmers are created equally. A stylish design, flashy options, and numerous attachments do not necessarily translate to a high-performance device. I will show you a couple of options that I highly recommend, not just because of their brand, but also because they actually work as advertised. 
Here is my list of best vacuum beard trimmers starting from the top pick to the least:
If you've been into beard maintenance for a while now, chances are you've seen or heard of Philips Norelco. This is one of the trusted names in the personal care industry. My top pick is their futuristic 7300 series vacuum beard trimmer, which comes with a unique digital display that can be used to control the length of your cuts. You can choose from 1 to 18mm hair length from the digital display. If you prefer a stubble effect, you can adjust the length to 0.5mm. 
However, this device is not just about a fanciful display unit or hair length. It comes with a powerful vacuum that works with a couple of integrated vents to collect your hair as you trim while ensuring that your skin is not irritated. The beard trimmer comes with a travel lock feature to prevent starting up accidentally while in transit. 
It takes about one hour to charge the battery. Once fully charged, it can last up to 75 minutes. You can use the Turbo feature to speed up trimming, especially when you are cutting tough hairs.
You will get a few increased vibrations when you switch to turbo mode, and the battery will run much quicker too. Nonetheless, this is to be expected, since the feature requires more power.
This is another good quality vacuum beard trimmer from Philips Norelco. This trimmer fits really well in your hand and comes with a control knob that offers you 20 different length options. 
Apart from providing powerful suction, Philips Norelco BT7215/49 is designed with advanced blades that deliver clean cuts while preventing the development of ingrown hair. The device comes with a precision trimmer attachment and three guide combs. The battery delivers an impressive 80 minutes run time and can be fully charged in one hour.
This powerful vacuum beard trimmer is designed to capture pretty much all hairs during trimming. But just in case there are any stray hairs that weren't captured, the device also comes with an additional vacuum head attachment that does the job of sucking them all up from all types of surfaces.
The Wahl 9870-100 has built-in dual-motor technology that powers cutting and vacuuming, ensuring that there's no loss of trimming power while delivering maximum suction. The removable vacuum chamber can be adjusted to collect any type of beard length. 
The lithium-ion battery has a 90-minute charging time and a 90-minute running time as well. That means you don't have to be in a hurry when using this trimmer.
Okay, if you are looking for versatility, this is the vacuum beard trimmer for you. The 4-in-1 Remington VPG6530 comes with different attachment heads designed for beards, sideburns, brows, and mustaches.
The detachable chamber is easy to remove and clean, considering all the attachments. The battery can run up to 60 minutes if it is fully charged. Regardless of how coarse or thick your hair is, the Remington VPG6530 would continue to work at the same speed without draining out the battery any faster. And, thanks to its two separate gears that control the blades and vacuum each, the trimmer can work at the correct speed.
However, it could feel slightly off to handle the trimmer because it has no curves on its surface. 
The Remington Hc6550 vacuum beard trimmer is built for durability. Its blades are made from tough titanium metals and cuts smoothly without any irritation. The vacuum compartment is transparent enough to give you a clear view of how much hair is collected. It is equipped with an eject button that allows you to remove the container without spilling hairs.
The vacuum beard trimmer comes with quite a number of useful attachments for added flexibility. You can use some of the comb attachments to produce a fade effect or detailing. They snap easily to the head of the trimmer and give you more control while you cut.
However, there's not much contour on the surface, making it a bit difficult to get a good grip.
And there you have it—the best 5 vacuum beard trimmers with Philips Norelco 7300 topping the list, followed by Philips Norelco BT7215/49, Wahl Model 9870-100, Remington VPG6530, and Remington Hc6550, in that order.
6 Things to Consider Before Buying a Vacuum Beard Trimmer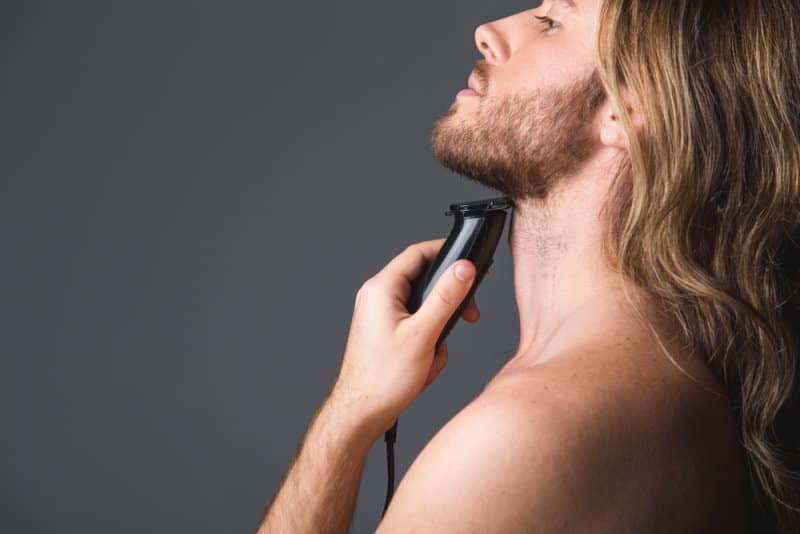 I will recommend buying any of the trimmers mentioned above; however, it may be difficult to make a choice out of all the amazing options out there. Therefore, I have put together a small list of things to consider. This will help you choose a vacuum beard trimmer that works well for you.
1. Choose the Vacuum Features You Are Considering Carefully
Apparently, the reason you would want a vacuum beard trimmer is because of that specific feature, so you should review it carefully. Make sure the container is located near the cutting head for easy hair collection during trimming. The container opening should be able to handle your hair without difficulty. 
Don't forget to check the suction power of the vacuum. It needs to be able to suck up hair smoothly and easily. The size or volume of the vacuum compartment should be large enough to contain all of your hair. If your hair grows rather rapidly, you will need to choose a beard trimmer with considerable space for your beard hair.
Lastly, ensure that the container can hold your hair without leakage. You don't want to get hair all over the place, as that will defeat the goal of having a vacuum beard trimmer in the first place! Choose a trimmer with an easy-to-attach and -detach the vacuum chamber, so you don't have to struggle every time you need to empty and clean the container.
2. Check the Motor Functions
A vacuum beard trimmer is as effective as its motor, and devices with two motors will be the better choice. One motor would be in charge of the vacuum function, whereas the other would control the cutting function. With two motors, you can be rest assured that your trimmer will not slow down when you cut long beard hair or run out of power in the middle of your trims.
3. Ensure it Comes with a Powerful Battery
Check the battery capacity—how long can it last and how long it takes to charge fully. The last thing you want is your trimmer dying on you while you are lining a trim. Make sure the battery power will be sufficient enough to provide you a complete shave. A good battery should last you up to 45 minutes at the very minimum, although an hour and above is preferable. If you can get one that uses both batteries and a cord, that would be a great option too.
4. Make Sure the Blades Are Good Quality
Regardless of how good a trimmer can vacuum, there would be little it can suck up if it doesn't cut well to begin with. Ensure that the blades are strong and firm enough to cut your beard hair as quickly as possible without wearing down. Look out for stainless steel, titanium, or ceramic blades—they are the most preferred types, with stainless steel taking the lead in many brands. 
5. Be Sure You Can Handle the Trimmer
The shape or handle point of a trimmer matters a lot. Vacuum beard trimmers are a bit bulkier than traditional electric trimmers. Obviously, this is because of the extra compartment for the container. However, a good trimmer should be shaped or designed in a way that makes handling it easier. You will want to buy an electric trimmer that fits into your hand properly without feeling awkward, especially when you have to cut at an angle.
6. Look For Useful Attachments and Accessories
Lastly—but still a point of equal importance—are the attachments that come with a trimmer. Although too many attachments are not really an indication of high quality, it is essential to have a couple of useful attachments and accessories. For example, extra suction attachments, long-hair attachments, and detailing attachments are all helpful additions to have. Choose a vacuum beard trimmer that offers sufficient attachments that target tough-to-trim areas, narrow spots, and different hair types.
Conclusion
The days of annoying after-trim cleanups are over! You don't have to look through every space to find stray hairs thanks to the powerful suction fans of vacuum beard trimmers. 
As you put in time and effort to look good by shaving or trimming regularly, it is an excellent idea to keep your shaving area clean. One of the best and most convenient ways to do that is by investing in a quality vacuum beard trimmer that will save you the extra job of cleaning up all the post-trimming mess. 
A good place to start would be to choose from any of the brands listed above. However, just in case you don't find something that appeals to you in my recommendations, you can follow the tips I've shared to help you find the right type of vacuum beard trimmer that suits your purpose. 
Recent Posts
link to Can You Use Beard Wax On Hair And Mustache?
All beard groomers should know that beard wax is an essential weapon they should have in their beard grooming arsenal. If you have a beard, you will understand how those whiskers can act unruly and...
link to 8 Reasons Beard Oil Is Totally Worth It
Your grooming kit is incomplete without beard oil! Seriously! Any man who wants to maintain a healthy and attractive beard needs to get good-quality beard oil; there's just no escaping that. But...