Growing a beard seems like the easiest thing to do; just let it grow, right? Well, not quite. The goal of donning any beard style is to look good and feel confident about one's appearance. And, as any bearded man would tell you, letting your beard grow haphazardly won't give you a decent look. But is it okay or even decent to leave the hairs on your neck, or is it better to shave your neck when growing a beard?
There is no universally accepted method for growing a beard; however, some beard styles appear more attractive when donned in a certain way. Although shaving of neck hair when growing a beard is subjective, most beard experts agree that bearded men should shave their necks up to the neckline.
If you've always wondered whether you are breaking some unwritten "guy code" when you shave your neck, this post will help you understand the correct way to rock your beard. We'll cover the ideal area for where your beard should stop on your neckline, a few grooming rules for maintaining your beard, and learn the exact steps for trimming your neck hair.
A Neckline Is Important: Here's Why
We are men and should let our hairs grow naturally while focusing on more important things like bringing in the bucks… right?
Wrong!
In fact, very wrong!
Besides being uncomfortable, an unkempt appearance is not attractive. Men also need to look sexy and great while chasing other important life goals. A good neckline is one way to bring out your good looks if you grow a beard.
A neckline defines the bottom edges of your beard, particularly if you have a full or box beard. Not shaving your neck hair will make you look like someone from the stone ages!
So, yes, shave your neck to outline your beard and make it stand out. Trust me; if you grow a full beard, you'll look better with a well-defined neckline.
There is a proper way to shave your neck hair, though, and we'll get to that in just a second.
When Should You Trim Your Neckline?
Not all beards grow at the same rate, and not all beard styles require the same trimming frequency.
It is "pardonable" to let your neck hair do its thing for a couple of days if you're sporting stubble. After all, very short beards are meant to add some "rough edges" to a man's attractiveness, if you get my drift.
But if you have a full beard, you will need to trim your neckline just as frequently when hairs start growing on your neck. Doing so defines your neckline clearly and will make any style you choose look tidier and better on you.
How to Define Your Beard Neckline
Shaving your neck hair is not just about trimming off all the hairs under your jaw; don't shave your neck until you define your beard neckline.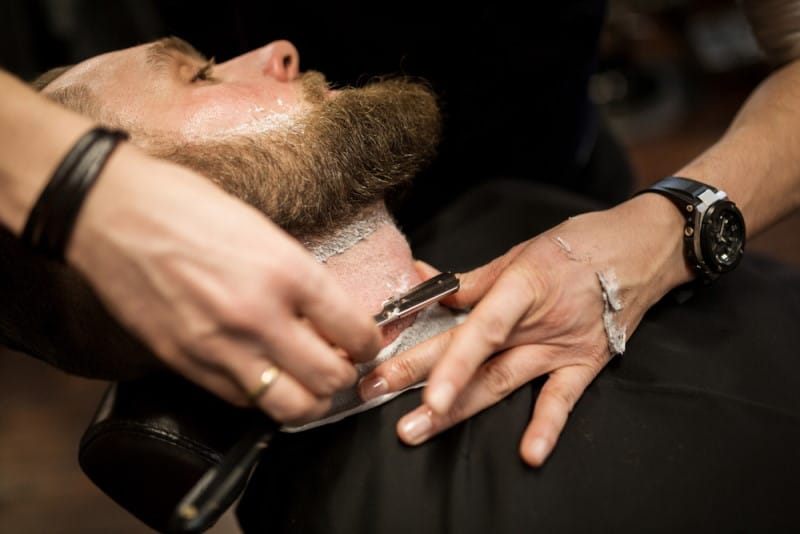 Here are some simple steps to defining your beard neckline and shaving your neck hair.
Trace a Line from Your Ear to Your Jawline
Stand in front of your mirror (a three-way mirror is even better) with your chin up. Now, imagine a slightly curved line running all the way from the edge of your ear to your jawline.
You can use a trimmer to trace this line. Make sure to draw the line from the edge of your ear and not the bottom of your earlobe. The line should stop where your jawline meets your neck and extend slightly above your Adam's apple. This is your neckline.
Connect a Line from Your Sideburns to Your Jaw
Imagine another line from the outer edges of your sideburns running down to the neckline. Trace this line with a trimmer, making sure to round off the corners to give it a more natural look.
Shave Your Neck Along Your Beard Neckline
Every single strand of hair below your newly-defined neckline should be shaved off. Defining a neckline is important, but make sure to use a good trimmer when shaving your neck because it has super sensitive skin. If you use a wrong type of trimmer, electric shaver, or razor, it may cause irritations. This part of the process is crucial, which is why I will be recommending the best three trimmers that can shave your neck hair without causing any problems.
First up is the world-renowned Braun Electric Razor. There's hardly any other shaver built like this one, and that's a fact!
This piece of equipment is not your regular beard trimmer—it is a machine built to deliver smooth precision cuts and trims. With 10,000 micro-vibrations, this electric razor can capture more hairs in every stroke. Here's a caveat though: this is a high-end brand, so expect to spend some good cash.
A good alternative is the Panasonic Electric Razor. This high-performance electric razor comes with a flexible 16-D shaving head that can pivot in 16 different directions seamlessly, making it easy to follow all the delicate contours of your neck, chin, and jaw.
Its powerful blade is designed to sense your beard density at 220 times per second, while adjusting the shaving power 14 times per second to give you an incredibly close and smooth shave.
Lastly, Remington F5-5800 electric shaver is a more affordable option, but don't be fooled by its relatively low price tag—his trimmer is designed with Pivot and Flex foil technology that can give extremely close cuts without causing skin irritation.
Condition Your Beard and Skin
Now that you're done with defining and shaving your neck, you need to condition both your beard and skin.
The least you can do for your beard and skin is apply an aftershave. This good-quality Aramis aftershave soothes your skin and prevents irritation that can occur from close shaving.
If you have a short beard, you can't go wrong with this special Beard Stubble Balm specifically formulated for short beards.
And, just in case you prefer a kit that will save you the trouble of buying separate beard conditioning products, I recommend getting the Shea Moisture Complete Beard Kit.
This kit comes complete with beard conditioning oil, beard balm, beard wash, beard detangler, and beard butter made from shea butter and maracuja oil. If that doesn't seem quite enough, the product contains only natural and organic ingredients. This is the go-to kit for anyone who is serious about taking care of their beard and facial skin.
There you have it. Defining a neckline is not difficult, although it will take some practice. You may not get it right the first few times, but it really doesn't matter because the more you practice shaving your neck, the better you will become.
Here's a great video that demonstrates these simple steps. Plus, you'll discover why shaving your neck too high or at the jawline could make you look odd:
How Much Neck Beard Should You Shave?
For full beards, it is important to shave all hairs below your Adam's apple. Always aim to keep your neckline just above the top of your Adam's apple.
Keeping your neckline this way impacts the visual density of your beard and is your best option if you want to give your beard a fuller, thicker, and more impressive look.
If you prefer sporting beard stubble, you should shave all your neck hair. Line your beard just below your jawline, but never too high into the edges of your jaw. Use a beard trimmer to fade the hairs on your jaw where they meet your neck to give it a more natural look.
Here's one of those unwritten "guy codes": never expose your neck fat! Trimming too high into your jawline will expose the "meat" under your chin, giving your face and neck a chunky appearance.
And I dare say; that's not attractive!
Should You Wax Your Neck Beard?
I wouldn't recommend that for a couple of reasons.
First, doing so can be incredibly painful because the skin on your neck area is highly sensitive. Another reason is that most waxes are not designed for facial use; therefore, your skin would be at risk of damage if you used a wax that was not meant for facial use.
It's a good thing if your neck hair tends to grow too quickly—it shows you're a man! But waxing is not your best option. A good electric razor is what you need.
I would thus recommend getting the Philips Norelco Electric Shaver. It is a hybrid electric trimmer and shaver with a replaceable blade that can last up to four months (if used for two full shaves per week). It works especially well for long beards, stubbles, and facial hair, including neckbeards.
However, even if your beard grows slowly, that doesn't make you any less of a man, and it's important to note that not all beards grow at the same rate. On the other hand, you can speed up your beard growth rate (if your genetics supports it).
This post explains all the simple things you can do to make your beard grow faster. Spoiler alert: it has nothing to do with frequent shaving!
4. Grooming Rules for Maintaining Your Beard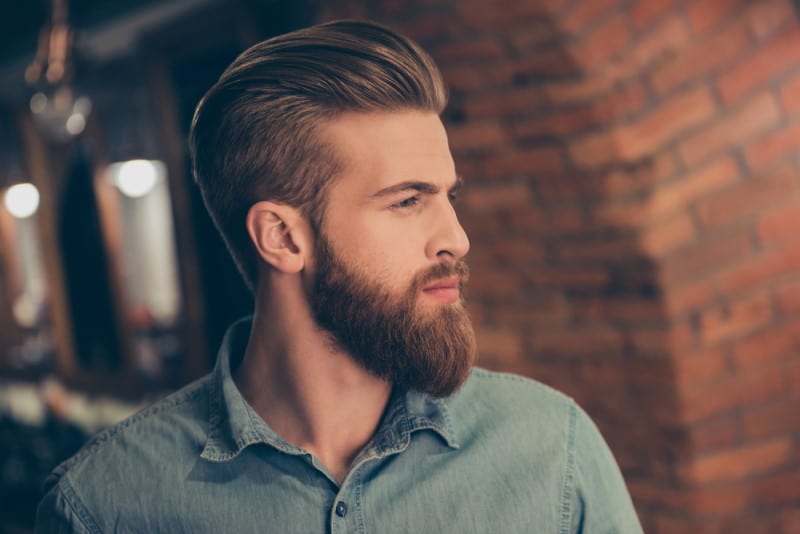 Do you remember earlier when I said the main reason for growing a beard is to look good and feel confident? Well, there are certain grooming rules you will need to follow religiously if you want to grow a decent beard that boosts your self-confidence.
1. Shave Your Neck Hair Regularly
You will have a hard time trying to look sharp and attractive with neck hair.
Growing a beard is not a random thing that all men do. Instead, it is an art that involves the deliberate use of symmetry to emphasize your facial features.
Shaving your neckbeard regularly is one way to highlight your face and make a personal statement about your looks. Leaving your neckbeard to grow as it pleases gives people the impression that you care less about personal grooming.
The easiest way to keep your neck hair from ruining your beard style—and your entire look—is by creating and sticking to a regular shaving routine.
Shave your neck once or twice a week, depending on how long your cut lasts. Heck—set a reminder if you have to. You can choose to use a safety razor to shave your neck or have your barber give you a straight razor cut. Whatever you do, just make sure you use a shaver that gives you a nice, clean cut.
Wondering if straight razor cuts actually last longer than using a safety razor? Check out this article to learn more.
2. Always Condition Your Beard 
You can skip breakfast, a couple of gym sessions, or even forget your lover's birthday, but never, ever, forget to apply some sort of conditioning on your beard daily!
Did I say you can forget your sweetheart's birthday? Well, maybe not that, but you get the point.
Make it a habit to use at least one beard conditioning product every day. You can choose to apply beard oil, balm, wax, butter, or even a combination of products.
Apart from giving your beard a great sheen and a super soft feel (your sweetheart will love the texture on her body!), these products also help the skin under your beard stay nourished and moisturized. 
However, just because you have to do this daily doesn't mean just any beard product is okay.
Your beard needs the best product to give you the good looks you want. Always remember to shop quality when it comes to beard products.
Consider pampering your beard with this Beard Oil that comes fortified with Kalahari Melon Oil and vitamin E. Your beard will thank you for it!
And, if you're looking for a balm to soothe your beard and the skin underneath, I highly recommend the Honest Amish Beard Balm. There's really no need to hype this product; it speaks for itself.
The only beard product you should not use daily is a beard shampoo or beard wash. Washing your beard with shampoo (not regular or hair shampoo) will eventually erode your natural skin oil and leave you with beardruff and, possibly, irritation.
But considering that beard hair collects dust, dirt, and food crumbs, especially longer beards, you should wash your beard at least twice a week with a good beard wash like this one. It will help your skin retain its moisture and natural oils. Plus, it hydrates your beard and leaves your face feeling and smelling super fresh.
3. Brush and Comb Your Beard Every Day
The hairs on your chin, cheeks, and neck will grow wild if you don't tame them. There's no better way to do that than by brushing or combing your beard daily.
If you have a full, long beard, regular combing will untangle any knots that may give your beard a disheveled appearance. Of course, shorter beards will require brushing too, to straighten out face fuzz.
Although it is not required, getting a dedicated beard brush and comb has a way of getting you to take your beard grooming more seriously.
For example, if you invest your hard-earned cash in a special comb, like this one or this special boar bristle beard brush, you will be more likely to remember to use it than if you used just any regular hairbrush or comb.
Make sure to brush and comb your beard in a particular direction always. Besides helping you look neat and tidy, it also trains beard hair to grow in that general direction. Regular combing and brushing make styling a lot easier, too.
4. Don't Push Your Beard Too Hard
Trying too hard doesn't make you look more handsome or attractive. If anything, it can ruin your hard work.
Give your beard a good trim, wash it when necessary, use the best beard care products you can afford, and style your man mane. However, it is important to know when to stop.
You are killing it if you're trying too hard, and I don't mean "killing it" in a good way. You are literally killing your beard!
Trends come and go, so stay updated about the latest happenings in the world of bearded men but understand that not all beard styles suit everyone.
Know what works for you and do your best to maintain a personalized grooming routine. The less complicated and more customized your routine is, the better your chances will be to stick with it.
Conclusion
Here's what it all comes down to—good looks.
Not shaving your neck will not kill you (at least not literally), but it can and does hurt your looks.
Even if you are just getting started with growing a beard, you can leave all other facial hairs to grow wildly for between one to three months, depending on how fast your beard hair grows, but always shave your neck. Doing so will help you get a clearer picture of what beard style suits your facial features.
Here's what you need to keep in mind when growing a beard:
Define your neckline, shave off every neck hair that falls below that line, and avoid trimming close to your jawline. Remember this, and you'll be "killing it"—in a good way!