Before I start, I need to be honest with you. I've been contemplating whether I should write this specific post or not. But since I've heard many men around me ask the question, I guess it's time to put the answer out there. 
The question is, does your beard oil go into your beard before or after a shower?
At Beard Guidance, we suggest that you apply your beard oil right after a shower. This is when your hair is clean, soft, and your pores are all open and ready to absorb some nutrients.
This is just like a beautiful complex physics problem, highlighting nature's simplicity. I love this topic in particular, so let's talk about it here!
The following sections will explain why it is best to apply beard oil after a shower and the amazing benefits of using beard oil. Stay with me.
What Is Beard Oil?
Beard oil is made with a base oil, often jojoba oil, mixed with a variety of essential oils and natural ingredients. These oils give it an intoxicating scent. Jojoba has been in use for a very long time now. It is a natural and non-toxic hypoallergenic ingredient. The essential oils are distilled from plants for the scents, i.e., orange, eucalyptus, and peppermint, among other plants.
Your facial hair is similar to the hair on your head. It needs to be well cleaned and conditioned for optimal growth. Some men have said that their facial hair is coarser than the hair on their heads, and it's true. You may be wondering why that is the case. Here is the reason…
Your facial hair grows because of androgens (testosterone). This hair is flatter than the ones on your head, making it more curly and coarse. Coarse hair can easily dry out and break. To avoid this, you need to keep it well moisturized and conditioned. That is why you need beard oil.
Why Should You Use Beard Oil?
When your beard grows longer, it becomes even harder for nutrients from the follicle to reach the other part of your hair strand, making your beard dry and coarse.
If you want to grow a healthy beard, you need to keep it hydrated. A beard that is well hydrated, soft, shining, and doesn't tangle is ideal. Man, that's a healthy beard!
Beard oil can help you achieve all these. It will keep your skin underneath well hydrated and create a soft and less itchy beard. Try applying a slight shine to your beard and see how nice it looks. Beard oil contains natural conditioners such as grapeseed oil, argan oil, and vitamin E to give you all that shine.
If you want to choose a very good beard oil, make sure the ingredients are all organic. If you notice any odd ingredient, possible one you can't pronounce, I think it's best to avoid those.
Benefits Of Beard Oil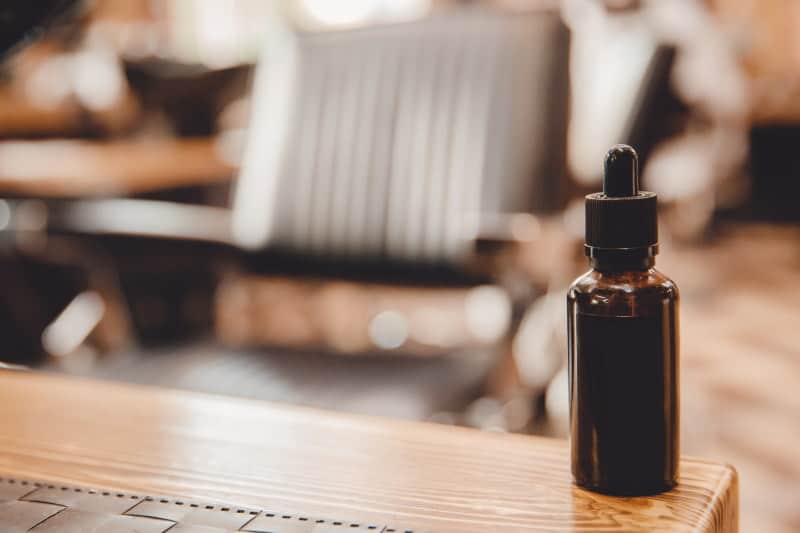 Just like you need beard combs, beard trimmers, and beard balm, you also need beard oil to help maintain your beard and keep it looking good. Your beard can benefit from the amazing benefits of using beard oil. Here are some of those benefits:
It helps in preventing beardruff:

This is very important because most dry beards are prone to having dandruff of the beard – beardruff. Good beard oil can help you avoid that dryness, itching, and flaking that comes with having beardruff.

It helps in moisturizing your beard:

Beard oil moisturizes the skin and hair follicles underneath your beard. Men that live in harsh environments are more prone to having their beard dry and brittle. If this is your case, you will need to keep your beard hydrated with beard oil.

It makes your beard look good:

I've already talked about how good beard oil can make your beard look, but I think we should repeat it here. Using a beard oil will make your beard look fuller with a nice sheen. If your beard is looking good, it means it's healthy.

It makes your beard more manageable:

When your beard is longer, it can easily get tangled and knotted. This makes it painful to run a beard comb through. Using a beard oil can help loosen up those tangles and take away the pain when you run a beard comb through.

It makes your beard smell nice:

There are different beard oil brands, with varieties of beard oils with different scents. Most of these scents are masculine and smell natural. Examples of them are sandalwood, tobacco, citrus, and cedarwood.
Check out my article 8 Reasons Beard Oil Is Totally Worth It to learn more about the benefits.
Beard Oil Before Or After Shower?
As you go about your daily activities in a dry environment, the moisture on your beard will likely evaporate, especially if you don't have beard oil on to protect it.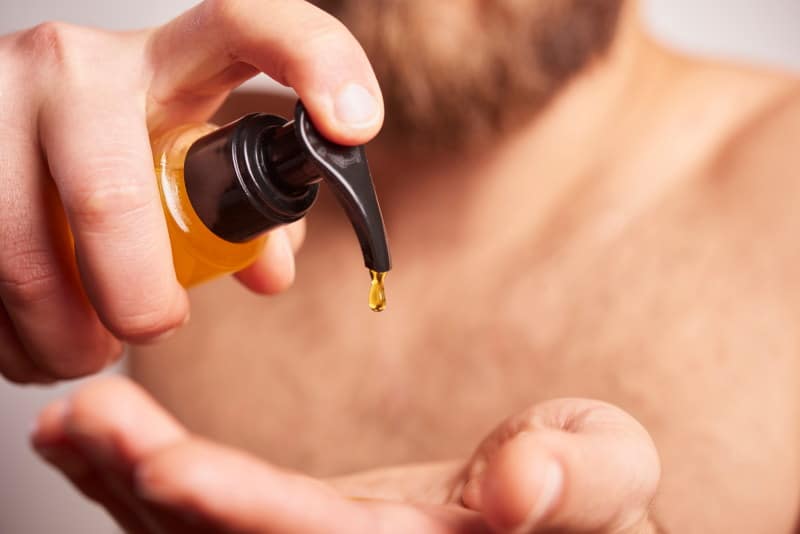 Creating a better atmosphere for your beard hair (taking a shower and using a towel to tap dry) will draw your beard's dampness to the end of your hair follicles. That's where evaporation takes place. If the water at the end of your hair follicles evaporates, more water is drawn to replace the evaporated ones. Since beard oil is hydrophobic, it will then move up to the follicle, towards your skin, and the water's location. Therefore, the evaporation that took place has drawn beard oil against your skin. This is exactly what we want!
When this happens together with more receptive pores, you will get a great amount of beard oil absorption and maximum effectiveness of the oil combinations.
Do you want to test this and see how it works? 
Okay then! Apply beard oil right after you take a shower, making sure your beard is just damp and not wet, and note down the amount of oil used. Later in the day, possibly 5 hours later, when your beard is all dried up, apply the same amount of beard oil. You will notice that your hand is oilier as you pull it away from your face.
The reason is that there is more residual oil that your beard isn't absorbing it. No matter your effort, applying beard oil to a dry beard won't give you good results. Your beard won't absorb enough oil as it should. It will just get an oily coating on it.
This little experiment has shown that we need to use less beard oil on a dry beard and more on a damp beard. A damp beard allows you to use more beard oil and gives the best results.
When and How To Apply Beard Oil
If left unkempt, beard hair can grow stubborn and strong as copper wire. I guess you wouldn't want to cuddle up with a beard that strong and wiry or even have it rub against your face. The good news is, with proper beard care, you can groom a soft and healthy beard. Beard oil is one of the most popular beard products that is used to effectively combat abrasive beards.
Check out this great video about how and when to apply beard oil:
Now that you know what to use, let's now look at how to use it.
Clean up your beard:

To get the best result from your beard oil, apply it after taking a warm shower. The steam and heat from it will help open up your pores and make your skin and facial hair more receptive to the beard oil. If you don't feel like showering, it doesn't stop you from using beard oil. You can wet your beard with warm water before applying the beard oil.

Use a towel to pat it dry:

Water and oil never mix, no matter what you do. Don't apply beard oil when your beard is still wet. Gently pat it dry with your bath towel before applying the beard oil.

Pump the oil out and rub it in:

Take the beard oil bottle and pump the oil into your hand. The length of your beard will determine the amount of oil you should use. A pump of oil is enough for a beard growth that is up to two months old. After pumping on your hands, rub it together to evenly distribute the oil on your palm. Massage the beard oil into your beard, and make sure you reach the skin under it, covering the root to the tip of your beard.

Brush it out:

After rubbing the beard oil, it's now time to get your beard in line. Use a beard brush or comb to brush out and shape your beard how you want.
If there's excess beard oil on your hand, you can either massage the oil onto your chest hair, the hair on your head, or your face. What's good for your beard is also good for your head, chest, and face, to a certain extent.
A good beard oil is made up of non-comedogenic ingredients that won't clog your pores, and vitamin E, which is beneficial to the skin. Don't let that excess oil go to waste.
How Often Should This Be Done?
The number of times or frequency at which you should apply beard oil depends on different factors, including the length of your beard and the environment you live in. The general rule of thumb is to apply beard oil twice daily: once in the morning and once at night.
Before going to bed, take a nice warm shower and apply a bit of beard oil to your beard, letting the oil do its magic overnight. You will definitely wake up to a soft and nice-looking beard in the morning.
Conclusion
Your beard needs beard oil for so many reasons, and if you are serious about maintaining a healthy beard, I will advise you to have one by providing knowledge and advice. You will be amazed at the progress your beard makes in no time. The key to a nice beard, no matter the length, is to take care of it with quality products such as beard oil.
Your beard will appreciate it more if the beard oil is applied after a shower than before. Remember not to apply it when your beard is wet! You need to pat your beard until it is only moist before applying the beard oil.
Applying beard oil isn't complicated, and in this guide, I have given you an easy process to follow. Do it correctly by choosing a good beard oil, applying it at the right time, using the right amount, and applying it the right way. Trust me, by doing this, your beard will look its best.