Growing and grooming an attractive beard is gaining popularity and quickly becoming a favorite style choice for many men. However, if not given proper attention, your beard may look wild and unkempt. This is one look many of us will want to avoid, but sadly, often we can't.
So, in an attempt to look for a beard product that offers hold to your beard, you may be wondering if a beard balm can hold your beard.
The truth is, yes, a beard balm can hold your beard. Though that isn't the primary function of a beard balm, it can hold your beard to a certain extent, and is a very useful product.
When it comes to using beard balm, some questions frequently get asked, and I want to answer many of them in this post. You will find out all you need to know about beard balms and especially about its holding properties.
What Is Beard Balm and Its Components
Beard balm is a leave-in conditioner designed to seal in moisture while providing a little hold to your beard. Beard balms have a more sticky consistency that may require low heat, such as from your hands, to soften it before applying.
To understand what a beard balm is, we need to look at the ingredients it is made up of. Beard balms are unique, but generally, they have four main ingredients: essential oils, carrier oils, malleable agents, and beeswax.
Essential Oils
The functions of essential oils aren't just to nourish and moisturize but to also give refreshing scents. Essential oils are obtained from different sources such as lemon, citrus, tea tree mint, lavender, and others. There are different beard balms with different scents. They have a unique, essential oil that gives it the scent. However, essential oils only make up part of the beard balm and aren't the main ingredient.
Carrier Oils
If you aren't new to using beard products, then you must have seen carrier oils. The oils are used in nourishing and moisturizing the skin underneath your beard. Examples of these oils are sweet almond oil, jojoba, and argan oil. These oils are important in treating a beard itch or beardruff.
Malleable Agent
A malleable agent such as shea butter is present in many beard balm to help convert the waxy nature of the product to something malleable. Shea butter also helps add a layer of moisture to a beard balm to keep your beard healthy.
Beeswax
Beeswax is an ingredient with great properties for use in a beard balm. This is what provides the light-to-medium hold beard balm offers. Without the beeswax, a beard balm would be in liquid form. When mixed with the products discussed above, beeswax has the perfect consistency to assist in styling your beard.
Who Should Use Beard Balm?
Men that need beard balms are those:
With flakiness or beardruff

Living in windy, cold, and dry climates

Grooming a beard or mustache

Trying to tame their unruly facial hair

Feeling tightness underneath their beard
When To Introduce Beard Balm?
As mentioned earlier, a beard balm contains beeswax, shea butter, and oils. Since it has all these amazing ingredients, I suggest you start using it as soon as your beard grows to 1.5 inches in length. At that length, your beard is already becoming dense and may require conditioning and light hold to control unruly hairs.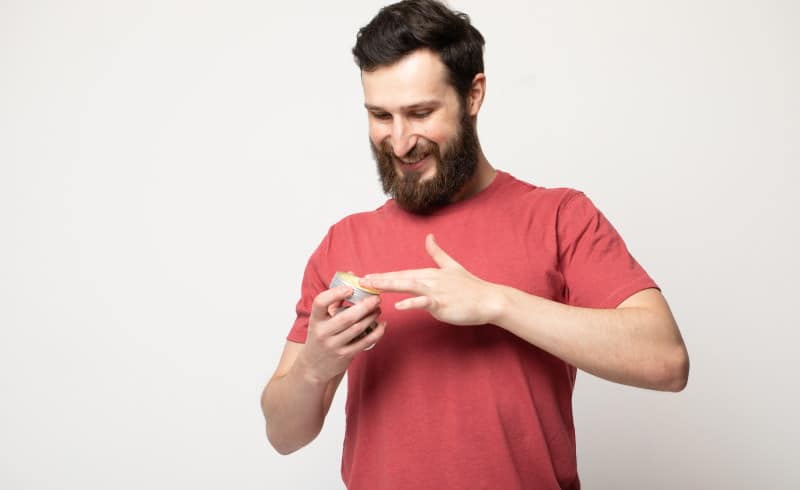 If you have a thick and coarse beard, I don't think you can avoid using a beard balm. A beard balm is a dense substance that should be used with a coarse and thick beard as it may be the only product strong enough to give you the control that you want.
Does Beard Balm Hold?
Yes, it does!
If you are used to using oils on your beard, and you still can't get your beard to stay under control, then you need a balm. A beard balm is almost like a hair gel but it helps in styling your beard instead of the hair on your head.
Despite its holding abilities, the main function of a beard balm is as a leave-in conditioner. It conditions, moisturizes, and softens your beard before styling. Most high-quality beard balms contain shea butter that moisturizes, oils that condition, and beeswax to give that extra hold. These ingredients are combined to promote healthy and proper beard growth.
Can You Ever Overuse Beard Balms?
If you are an ardent reader of Beard Guidance, you would've come across many posts that are centered on beard balms. They offer amazing benefits for your beard and the skin underneath.
By using a good quality beard balm such as the Honest Amish Beard Balm, you are giving your beard and skin the right amount of moisture and protection against external factors. While it moisturizes and conditions your beard and the skin underneath, it also helps in keeping fakes at bay. These flakes, if left untreated, will become beardruff.
Since beard balm offers these benefits, you may wonder how much of it you should use and find out if you are overusing it. The truth is, no beard is the same. There are different beards for different amounts of beard care.
If you have a well-shaped and short beard, you wouldn't be needing much beard balm for maintenance. The size of your beard determines how often you should be using your beard balm. A bushy beard requires that you use a beard balm daily to maintain and keep your beard in the right shape.
So, in this case, you can hardly use too much beard balm. Although, if you apply it incorrectly, then it will look unattractive.
Over applying beard balms will give the same results as over applying beard oils. It can cause a residue that leaves your beard looking tacky-like and sticky. This can be pretty nasty and should be avoided. 
What works for me is daily usage. I apply a small amount of beard balm into my palm and rub my hands together gently to soften it and make it easy to apply. After applying, it activates and softens my beard. Brushing or combing is easier after applying beard balm.
Can I Use Beard Balm & Oil Together?
Absolutely, you can use both products together.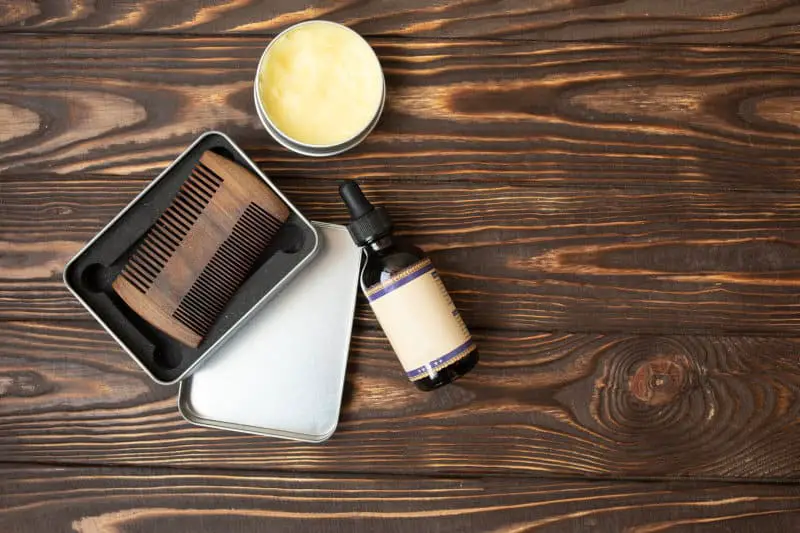 I've received many questions from people asking for effective ways they can maintain and grow their beards. They've seen that my hard work is paying off and they want to know the secret.
The truth is, we all have different beards that require a specific routine that should be well-tailored to your personal needs. However, there are some must-have products that shouldn't be missing from your grooming kit. These products work for everyone and can be used together to achieve great results.
Below, I will tell you how you can use beard balm and beard oil together to achieve great results.
Immediately after showering, pat your beard with a towel to dry it (avoid rubbing it vigorously). Then apply a small amount of beard oil and work it down into the root area of your facial hair. 

Next, apply a small amount of beard balm to the outer part of your beard. It will give you a light wax coating that should provide your desired hold.

You can also choose to apply your beard balm in the morning and the beard oil at night. This depends on what you prefer. This method is helpful for people with a coarse beard.

You can also choose to apply the products on alternate days.
Tips & Tricks When Using Beard Products
Scoop out a small amount (a bit bigger than the size of a pea) of beard balm. Use the back of your thumb to scoop it like it's ice cream.

Place it on your palm and gently rub together to warm and soften it. 

You can use a beard oil with a beard balm to give a fantastic hold and shine to your beard.

You can take your beard balm with you when traveling because it doesn't spill (unless it gets completely melted).

This is funny but true: A beard balm can be used as an impromptu way of shining your shoe. When in a rush or when you don't have access to shoe polish, you can quickly use a beard balm to buff up your shoes.

If you are experiencing dry and cracked lips, you can use beard balm to hydrate them. A few drops of oil will also make a difference. This is especially true of all-natural beard products. Don't do this if the product contains artificial ingredients or chemicals.
Conclusion
The benefits of using beard balm can never be overemphasized. It is one of the best products to use to give you the hold you need to control an unruly beard. All men with a beard should use beard balm, and the amount you use, and how frequently, will depend largely on how long your beard is. 
There are many quality products to choose and some are even all-natural. Whichever products you are using, ensure you use them properly to get the best results.
Some factors can contribute to how well you are able to grow your beard. There are bound to be times when your beard is dry and brittle due to dry air or lack of care. Integrating a beard balm into your grooming routine is the solution. It will care for your beard hair so effectively you will find it easy to present a well-groomed, attractive look.
Ensure you update your grooming kit with a quality beard balm product!