A patchy beard is like a garden with spots missing. There are parts of the garden you know you could use, but utilizing those parts has proven to be more difficult than you anticipated. A patchy garden simply doesn't look right. To fix a patchy garden, gardeners will often use growth stimulants on their plants. 
Just like the gardeners, beardsmen with patches in their manes can use growth stimulants or other options to fill in the absent spots. But not all growth stimulants are created equal and they all come with upsides and downsides. 
Avoid Falsely Advertised Pills
It's worth noting that not everything advertised as a beard growth stimulant will work. In fact, most pills sold online as beard growth stimulants will not work at all and are actually scams. Never buy beard growth stimulant pills online that haven't been vetted through reliable and extensive testing. You should also be able to verify this testing.
The best fix for a patchy beard will be something that stimulates the growth of dormant hair follicles. In the vast majority of cases when a beard grows with patches, the beardsman has the necessary hair follicles to fill in his beard. The problem is that these follicles simply aren't growing.
What stops these hair follicles from growing? There is a wide variety of causes that include anything from genetics, poor diet, hormonal imbalances, and stress. It might even be a fungal infection. It's worth speaking to your local dermatologist about these matters to find out exactly what causes your patchy beard.
If your patchy beard is caused by poor diet or lack of sleep, these kinds of things will require a lifestyle change. However, in the meantime, there are plenty of kits and tools to stimulate your hair growth.
Minoxidil is Proven to Work
Minoxidil is a medication used to treat hair loss and high blood pressure in both men and women. It's available in prescription tablets and over the counter as a foam or gel applied to the skin. It's important to note that minoxidil won't make your beard grow faster. It works to awaken dormant hair follicles in your beard. This will obviously increase the density of your mane. 
However, it's not advised for anyone who's a teenager. It's also not recommended for someone who's had heart problems. Get professional medical advice if you're in doubt. With those qualifiers, using minoxidil is an excellent way to help your beard's growth. 
The Positives of Biotin
Biotin is also called Vitamin B7. It specifically affects a wide range of metabolic processes in the body associated with fats, carbohydrates, and amino acids. Biotin is closely tied to the production of hair, fingernails, and skin cells. Our bodies naturally produce biotin and a person with biotin deficiency will experience thinning hair or hair loss. 
Taking a Biotin supplement will actually increase the speed of your hair growth. That's why it's one of the key ingredients you should check for in any supplementary product you buy to increase the length of your mane. Biotin is a well-known, safe, and reliable active ingredient to use.
Best Beard Growth Serums for Patchy Beard
For the patchy beardsman, you'll require a specific set of tools, supplements, or kits to fill in your beard. If you talk to your doctor, and your doctor gives you a reason your beard is patchy, you should adapt to what your doctor says. If not, then here are some good items to start with.
This kit is designed to address the needs of all beard types. The kit contains nourishing beard balm, oil, wash, and a good brush. The Gentlemen's Scruff Beard Balm has a blend of macadamia, jojoba, and shea butter purpose made to hydrate and stimulate beard growth.
The Radiance Beard Wash is an organic shampoo that will allow beardsmen to clean and unclog hair follicles. What makes this kit interesting is the Night Liquid Elixir Beard Oil, which stimulates growth and leaves the beard shiny.
Pros
High-quality products
Very good beard oil
Excellent pocket-sized brush
Stimulates beard growth
Cons
This particular product is entirely natural, and it does assist hair growth. If you are part of the vegan lifestyle, this is obviously something you would be interested in. It has biotin in it, and also has various plant-based herbs and oils. 
Pros
A lot of very beneficial herbs
Biotin
Suitable for vegans
Cons
Proteins are a bit narrowly based
Fish oil is beneficial for your hair's health, and it also reduces the risk of hair loss. It's got Omega-3, and that substance is terrific for skin and hair follicles; it also combats beard dryness.
Fish oil is not specifically useful for promoting hair growth, but it's great for encouraging your growth to be smooth and healthy. And, merely as part of your diet, fish oil is beneficial for your heart, blood circulation, and all-around working of your body. 
Pros
Inexpensive
Prevents dryness
Cons
Won't accelerate beard growth
Coconut oil contains lauric acid; that's a substance that increases hair thickness and is believed, by some experts, to be good for encouraging new growth. Coconut oil is a fine moisturizer. The skin absorbs it and uses it to ward off hair damage in general.  
Pros
Prevents dandruff
A fine moisturizer
Prevents hair damage
Cons
Not necessarily effective for new growth
Not that effective for hair thickness
Coconut oil has a strong aroma; you might not like it
This product is well-regarded in terms of improving hair growth and keeping it healthy. Wellabs Premium Biotin & Collagen is a bit more expensive than other products considered here. You might feel that a slight extra expenditure is worth it, however. It has biotin and collagen in its ingredients. It's certainly up there when it comes to improving a patchy beard. 
Pros
Contains both biotin and collagen
Effective for beard health
Cons
Moisturizing qualities aren't great
A bit expensive.
Patchy beard growth can have all sorts of causes, but one overlooked explanation might be a lack of vitamins. Your hair needs Vitamin B7, for instance. There are four nutrients that help produce collagen, and they're proline, glycine, copper, and Vitamin C. Any good multivitamin will have these ingredients, and they're the kind of thing you can buy from any decent supermarket or health store.  
Pros
Can be bought anywhere
Inexpensive – depending on the quality you go for
If lack of vitamins is the problem, this will solve it
Cons
Lack of vitamins may not be the cause of patchy beard growth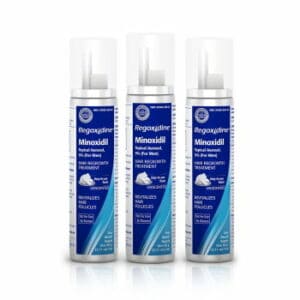 This product is very popular and has plenty of positive feedback. Don't go berserk when you're applying it – modest amounts are more than enough. This isn't recommended for men under the age of 21; when you're young, you don't want to be pressuring your beard to grow more than it wants to.
Minoxidil isn't advised for anyone who's had heart problems, either, and also older men should get medical advice before using it. With all that being said, if you want to regain lost hair or to improve the density of your beard, this is pretty good.  
Pros
Minoxidil is effective for enhancing hair
Will stimulate hair growth for old hairs
Cons
Use it with caution depending on your circumstances, age, etc
Conclusion
I'd decided to go for Minoxidil. It definitely does do the job when it comes to solving the issues of unsightly patches in your beard growth. It gets to work on dormant hair follicles and kicks them into life. But, it can have side effects.
It is a volatile substance, and I really would recommend checking with your doctor to ensure it's safe to go ahead. Don't discount the idea of using a multivitamin, either. That can solve the problem if a lack of vitamins is the cause.
But, back to minoxidil – it's potent and effective, and I'd certainly recommend your using it if all the other cautionary boxes are ticked. Its track record in dealing with patchy beards is second to none.