There is no shortage of beard grooming products. However, understanding which ones are better used together can be challenging, especially if you are just starting your beard journey.
Beard oil seems to be the most touted beard product, but how is it different from beard wax? Should they be used together, or would that be totally unnecessary? And, most importantly, what is the correct way to use beard oil and beard wax together without overdoing it?
Beard oil and beard wax should be used together, starting with the oil. Massage the oil into a clean beard, ensuring it gets to the skin under the beard. This should be followed by applying wax to the beard superficially. The oil provides nourishment to the skin, whereas wax will help with styling.
There's a lot more to beard grooming than styling it. Certain products are created to give you control over your beard, so you can style it to your liking. Others are formulated to provide nourishment to your skin and beard hair.
If you don't know the difference, you may not see any reason to combine both. As long as your beard is shiny, you'll assume it is okay. But that's the type of assumption that can lead to dissatisfaction and frustration sooner or later.
If you've always wondered whether you should use beard oil only or combine it with beard wax, then this post will be great for you. Read on to understand the difference between these two beard grooming products, and why you should use both.
What's the Difference Between Beard Oil and Beard Wax?
Beard oil is a beard product made from a fine blend of ingredients that hydrates facial skin and reduces or eliminates itches.
Good-quality beard oil helps prevent skin irritation and dry skin. This means you'll hardly experience any flakiness that leads to beardruff. Apart from beardruff, flaky skin can eventually clog your pores and cause acne or even prevent beard growth.
Beard wax is an effective facial hair styling product with a thicker consistency than beard oil. It is most suitable for men with a fuller beard because it makes it easy to tame longer beards.
Both beard oil and wax contain nutrient-rich essential oils. However, beard oil is a mix of carrier oils and essential oils for improving skin health and boosting beard growth, whereas beard wax has beeswax as its main ingredient for sculpting beards.
Essentially, bear oils are facial skin moisturizers that improve the health of the skin underneath your beard. Beard oils are developed to mimic the natural oils in your skin that are necessary to keep your beard hair healthy.
On the other hand, beard waxes keep styled facial hairs in place. In addition to being excellent styling products, they also protect your beard from elements such as dust, wind, rain, and other harsh weather conditions.
Talking about protection, can beard oil provide the same protection as an aftershave? Is it okay to use beard oil and aftershave together? Find out more in this post.
If you find it a bit confusing to figure out the difference between beard oil and other beard conditioners, you're not alone—many people find it a bit confusing at first.
Here's a simpler way to put it: When you want skin nourishment and protection that stimulates healthy beard growth, think beard oil. Beard oil will mean a healthy beard and skin. When you want something to help you play around with your beard the way you would do with your scalp hair, think beard wax. Beard wax means a good-looking beard style.
Why You Should Use Beard Oil and Beard Wax Together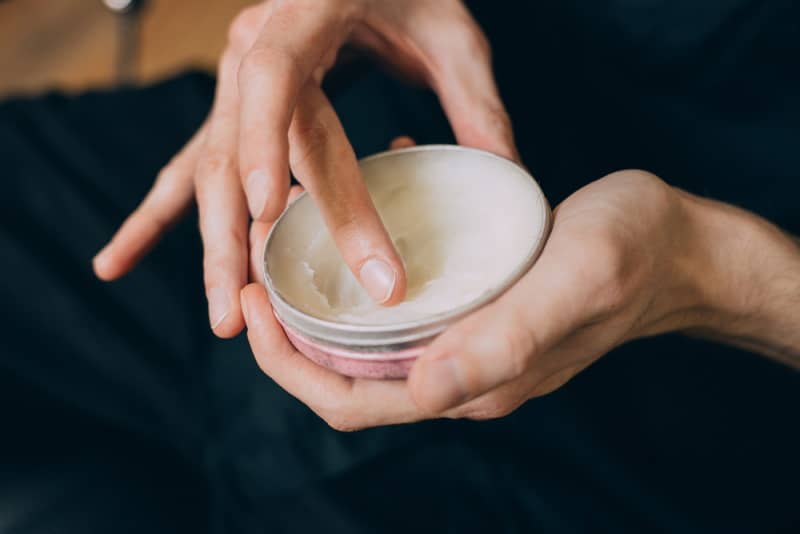 Beard oil and beard wax are two beard grooming products that provide unique albeit complementary functions to keep your beard in tip-top shape. 
You want to grow a soft and healthy beard but also want to havecontrol over your beard, so you can style it in whatever way you want. On the other hand, you don't want to style a beard without giving it the necessary nutrients.
Good-quality beard wax gives you more control over how you style your beard compared to other products, such as beard balms. However, it doesn't provide the deep conditioning required to keep your skin moisturized.
For this reason, it makes more sense to combine a moisturizing skin product—such as beard oil—with a beard-styling product like beard wax.
It's not rocket science; there is absolutely nothing too complicated to figure out here.
The problem is that most people who don't know the specific functions of these beard grooming products may wonder why it is necessary to use them together. Fortunately, you now know why—each product has its specific purpose, but together, they can give you the best result.
So, if you are wondering whether it is okay to use both products together, the answer is a resounding yes!
Ideally, you should apply beard oil right after your shower or immediately after washing or rinsing your face. Next, rub in the wax to give your beard a long-lasting hold.
It's okay if this sounds vague at this point, especially if you've never used beard oil and wax before. But don't worry if you don't get it yet; the next section will show you the exact steps for applying beard oil and beard wax together.
In the meantime, understand that there are very few reasons why you shouldn't use both products together or at the same time. The main reason why you wouldn't, however, is that you should not use them together before going to bed.
Beard oils can be used at night if it is convenient for you; in fact, your skin will thank you for applying it at night. However, if you do, remember to use a beard bib to protect your sheets and pillows. You don't want to wake up to an oil-soaked pillow and sheet set.
You shouldn't use beard wax before going to bed, simply because it doesn't really serve any purpose. The main purpose of styling your beard is to look good. Obviously, no one would care about how your beard looks when you sleep—not even you!
How to Apply Beard Oil and Wax Together
Now, let's get to the meat of the matter. Applying beard oil and beard wax is simple if you know what to do.
Your hair won't fall off mysteriously if you don't follow the correct procedure; however, to get the most from these amazing products, it's important to get the steps right.
Step 1: Clean Your Beard
Wash your beard with a mild beard shampoo and warm water. Note that if you've recently given your beard a thorough wash, rinsing your beard should be just fine.
Whatever you do, avoid using hot water to wash or rinse your beard.
For most people, beard cleaning is done during their morning shower, and this is fine too. The important thing is to avoid applying any beard products to a dirty beard.
Step 2: Dry Your Beard
Dry your beard with a towel to remove the excess water, though it is not necessary to blow dry it. Ideally, your beard and skin should be fresh and slightly damp to allow the oils to absorb into your pores quickly.
Step 3: Massage Beard Oil into Your Skin and Beard
Dispense a few drops of oil into your palm. The quantity you need will depend on the length of your beard. Start with a few drops and increase the quantity as needed.
Now, rub your hands together and gently massage the oil into the skin underneath your beard. Make sure the oil spreads throughout your follicles. Although the product is called "beard oil," it works better when it reaches the roots of your beard hair and your skin.
Step 4: Brush or Comb Your Beard
Brush or comb your beard, depending on its length. This will help to distribute the oil evenly.
Beyond distributing oil, a brush will help exfoliate your skin to remove dead skin cells that can build up to beardruff. On the other hand, the massaging effect of a comb on your facial skin can stimulate circulation and promote healthy beard growth.
Now that you're done with the oil, it is time to apply wax.
Step 5: Scoop Up a Small Quantity of Beard Wax
Scoop out a small quantity of beard wax using the back of your fingernail or thumbnail and place it in your palm.
Rub your hands together briskly to melt the wax.
Step 6: Work the Beard Wax Into Your Beard
Work the wax thoroughly into your beard, making sure to spread it to all sides. If you have some flyaways or particularly stubborn hair strands, focus on them.
Remember to apply the wax to your mustache, too!
Step 7: Style Your Beard
Lastly, style your beard using a brush or comb. Give it a few minutes to set in, and you're good to go. Remember to wash off the beard wax before going to bed.
Although it is okay to leave in beard oil overnight, your beard needs to take a break from wax, especially at night.
When to Use Beard Oil and Wax Separately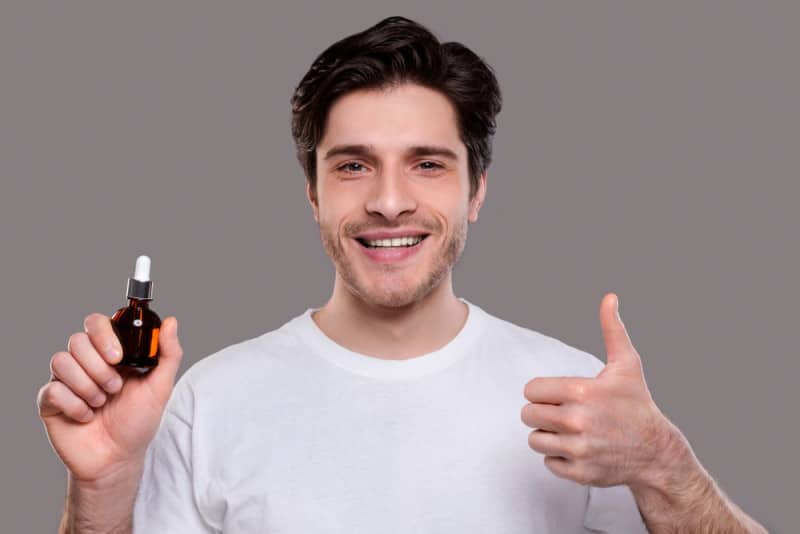 It is best to use both grooming products together if you want to grow an epic beard. But it is okay to use beard oil and wax separately in some situations.
Two such situations include:
If you've recently started growing your beard, beard oil is your MVP! The first few weeks of beard growth does not require the use of wax.

If you have grown a full-blown thicket, beard wax is your best friend when it comes to taming flyaway hairs. That should not stop you from using beard oil, though. On the other hand, you will need more wax to keep your beard hair in check.
Product Recommendation
Over the years, so many beard oils and waxes have hit the market. Here are a few that have stood the test of time.
Beard Oil
1. Honest Amish – Classic Beard Oil
There's no better product to start with than the most trusted beard brand in the world! Honest Amish Classic Beard Oil contains more than ten carefully selected essential and premium oils, including golden jojoba, organic virgin argan, moringa oil, black cumin oil, virgin baobab oil, and rosehip oil, among others. These all-natural and organic ingredients are blended in a rare mix to condition skin and beard.
The oil is packed full of antioxidants, vitamins, and minerals that relieve irritation and stimulate the growth of healthy beards. The classic beard oil from Honest Amish will leave your skin and beard soft and hydrated.
It is suitable for all skin and beard types and is considered one of the best overall beard oils on the market. You simply cannot go wrong with this product.
2. Citrus Grove Hydrating Scruff Oil
From Oars + Alps comes this natural beard oil and hydrating beard conditioner. Citrus Grove Hydrating Scruff Oil is made from a special blend of argan, jojoba, grapeseed, and other essential oils that target beard itch and skin inflammation. 
This is arguably one of the best beard oils for treating and preventing beardruff. Thus, if you have particularly dry skin, a brittle beard, or are dealing with beardruff, this beard oil is your best choice for finding quick relief.
In addition to its potent, nutrient-rich essential oils, Citrus Grove Hydrating Scruff Oil also contains the unique Alpine Caribou Moss that comes in every Oars + Alps grooming product.
The unique ingredient helps reduce the effect of stressors and pollutants on the skin and fight signs of aging on the skin.
With well over 5,000 reviews on Amazon, the Ranger Beard Oil is a popular choice and for good reason.
First, it has no additives, fillers, fragrances, GMOs, or parabens, making it one of the cleanest and most efficient oils on the market. It is formulated with only two highly-effective ingredients: Moroccan-sourced argan oil and jojoba oil.
If you have sensitive skin, the Ranger Beard Oil might be just the right oil for you. The product is perfect for preventing split ends.
It is unscented, making it perfect for men who prefer beard oils that won't clash with their cologne. This beard oil comes in a dark bottle that helps protect its purely natural oils from losing potency.
Beard Wax
1. Honest Amish Original Beard Wax
What can I say? The Honest Amish still tops this list. But that is to be expected, considering that the Amish people are commonly known for one thing: long beards! Certainly, they should know how to care for beards better than anyone, don't you think?
The Honest Amish Original Beard Wax is carefully made by hand from start to finish using natural and organic oils, botanical additives, butter, essential oils, and locally sourced beeswax.
Apart from taming rogue and unruly beard hairs, this beard wax also conditions and softens beards, giving beards a nice shine. Its mild masculine scent is also not offensive and will leave you smelling nice all day.
2. Badass Beard Care Beard Wax
Badass Beard Care did an incredible job with their beard wax! It is formulated from a blend of natural oils, beeswax, and butter.
However, one unique thing about this beard wax is its sweet citrus scent, commonly known as "The Ladies Man Scent." Besides its natural ingredients that provide conditioning effects, the product contains natural aphrodisiacs!
It provides a medium hold, so your beard won't feel unnaturally stiff. If you want a beard wax that will give your beard a dense or fuller appearance, Badass Beard Care Beard Wax is your best bet.
3. Bearded Goon's Ridiculously Strong Beard and Mustache Wax
If you want a wax that provides the strongest hold, look no further!
This beard and mustache wax from Bearded Goon indeed provides a ridiculously strong hold! The Bearded Goon's beard wax is formulated with tree resin, in addition to the usual beeswax, coconut oil, and shea butter, to keep your beard in place all day long. Its all-natural ingredients mean that the product won't dry out your facial hair and won't choke you with foul smells.
So, if you have unruly flyaway beard hairs or rowdy whiskers, this could be your best beard grooming acquisition yet.
Conclusion
Having the right beard products is one thing; knowing how to use them correctly is a completely different ball game!
Clean and oil your beard, and then apply wax. That's the right way to use beard oil and beard wax together. The former provides moisturizing and healing effects, whereas the latter will help you sculpt your beard to your preferred style.
Investing in good-quality beard oil without wax is only pardonable if you have a very short beard (such as stubble or other short beard styles). As soon as your beard starts to grow longer, it is then time to use beard wax, along with your beard oil.
On the other hand, it would be a grave error to use beard wax only, without providing your beard with the nourishment it needs. Both products go hand in hand.
Recent Posts
link to Can You Use Beard Wax On Hair And Mustache?
All beard groomers should know that beard wax is an essential weapon they should have in their beard grooming arsenal. If you have a beard, you will understand how those whiskers can act unruly and...
link to 8 Reasons Beard Oil Is Totally Worth It
Your grooming kit is incomplete without beard oil! Seriously! Any man who wants to maintain a healthy and attractive beard needs to get good-quality beard oil; there's just no escaping that. But...