I understand the journey you took to grow out your beard. Honestly, a long beard requires patience, special care, and top-notch products to look just the way you've always desired.
Now, if you've considered trimming and shaping your beard, you might be thinking:
"Are beard shaping tools worth it, or should I just find myself a good barber and get it over with?"
Beard shaping tools are definitely worth trying because they don't leave room for mistakes. These helpful templates don't require steady hands or previous experience with trimming beards. Therefore, they can be a great choice for shaping all beard types.
In this article, I'll share with you the benefits of trying beard shaping tools, recommend my favorites, and give you some tips on how to use them.
Let's dive in!
Why It's a Good Idea to Buy Beard Shaping Tools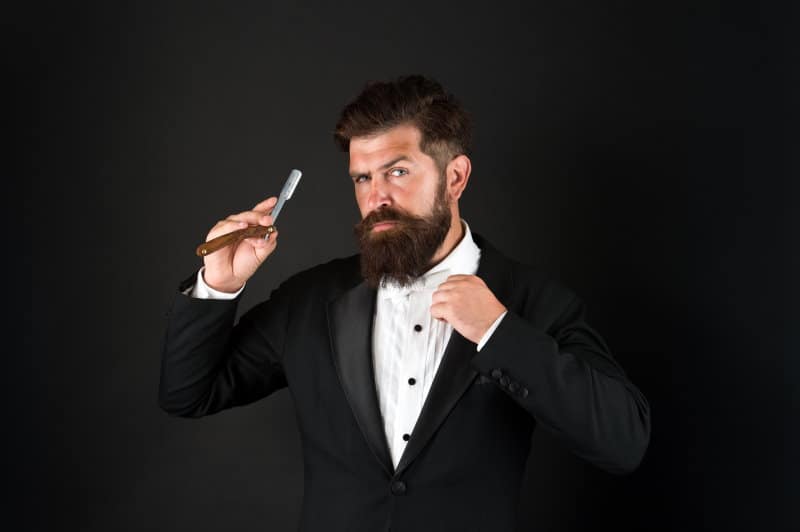 If it's your first time growing a beard, you'll want to be extra careful when you trim it, especially if you have a certain style in mind. Well, using a shaping template can be a necessity in case you want to DIY.
Here's what I like about beard shaping tools:
They're usually affordable, so you'll be able to buy more than one template without spending too much

They're made of see-through plastic to make your task easier

They ensure a perfect trim each time without so much trial and error

They keep you from having to shave and start over again if you make a mistake

They're straightforward to use and require no special talent

They're applicable to all beards (short, medium, and long)
Now, you're probably excited to buy a reliable beard shaping tool and give it a try. Allow me to show you my top five candidates on the market!
The Best 3 Beard Shaping Tools to Consider Buying
Without further ado, here are a few beard shaping products you might be interested in.
This shaping tool is the most popular one you'll find out there, and its fame is due to many reasons. Yet, the most notable thing about it is that it's the first-ever shaping tool on the market, and everyone has good things to say about it.
Personally, I like that this tool features multiple curve sizes and different angles, which boosts its versatility. I also admire how it's made of flexible plastic to hug the shape of your face and promise perfect results each time.
Even better, it's suitable for use on your hair and beard, so that's a cool bonus!
The Beardoholic shaping tool is another product you'll likely appreciate. 
It comes with nine angles and cuts to help you achieve your preferred beard style. Plus, it's available with a lineup pencil and scissors for even more trimming accuracy.
The tool is transparent and is only 1mm in thickness, making it a breeze to use for beginners.
If you're still on the fence about using a beard shaping tool but want to test the waters, this basic tool may be a decent option to consider.
The Aberlite ClearShaper can help you shape your cheek line, give yourself a goatee, or accentuate your neckline hair. Because it's 100% transparent, you should always be able to see your progress and make adjustments accordingly.
Better still, the Aberline Clearshaper is made from anti-slip rubber to prevent accidents. No one wants to end up with patchy cheeks, right?
How to Use a Beard Shaping Tool: A Beginner's Guide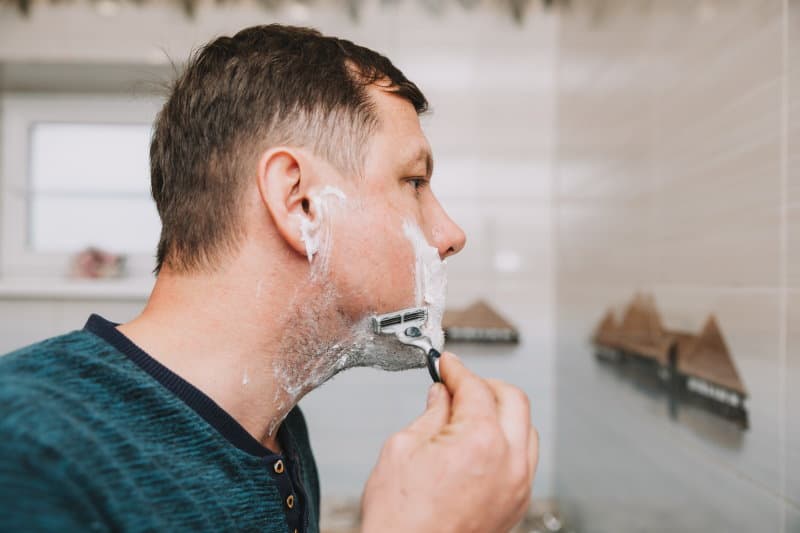 Most beard shaping tools are a piece of cake to use as long as you follow the instructions manual included in the package.
Still, as a beginner, you might need some extra help for a mistake-free experience. Hopefully, after going through this guide, you can shape your beard with more confidence.
Step 1: Take Out Your Beard Trimmer, Shavette, or Razor
Turn on all the lights in the room to see more clearly, stand in front of the mirror, and whip out your cutting tools. Usually, you'll need your beard trimmer or a good old razor to get the job done.
Note that not all trimmers can work smoothly with a shaping tool. You must use a trimmer that'll be able to glide along the edges of the curves and angles of the beard shaping tool. A wide trimmer may not be a wise choice in this case.
For the best results, make sure to use a trimmer that has a narrow blade housing.
Step 2: Use the Beard Template to Shape Your Cheeks
Start by choosing the cut edge that you want, then put the shaping tool right against your face.  Hold it there firmly so that it has no chance of slipping when you begin trimming your beard.
Next, simply switch the trimmer on and run it along the edge of the beard shaping template.
Step 3: Give Your Neckline a Trim
When you're done with your cheeks, change the position of the beard shaping tool to end up with the cut designed for necklines. Press the edge against your neck until it's about an inch above your Adam's apple.
After that, remove the guard comb from the trimmer and use it to get rid of the hair below the edge of the shaping template.
Step 4: Use a Razor for More Defined Lines
Some guys may like how their beards look after going through the previous three steps only. Others may prefer more defined beard lines.
In this case, you can follow the previous steps, using a razor instead of a beard trimmer.
Keep in mind that a razor may be tricky to move along the different edges of the shaping tool since it's pretty wide. If it's a struggle, you could always trace the lines of the template with a barber's pencil and follow up with the razor.
Step 5: Clean Up and Admire Your New Beard Style
You'll probably end up with the desired results from the first go. 
Now, all you've got to do is clean up all the loose hair, maybe use some conditioner or oil on your beard, and enjoy your new look!
To Wrap It Up
"Are beard shaping tools worth it?"
It's a good question to ask if you've been growing your beard for months and want to give it the fresh style that it deserves. Well, you'd be happy to know that beard shaping tools can be worth a shot because they're easy to use, inexpensive, and are almost mistake-free.
Speaking of growing a beard, have you ever wondered if using hyaluronic acid on yours can encourage its growth? You can find that out in this article!
Should You Shave Your Chin When Gro...