Founded in 2016, Viking Revolution has become a premier player in the male grooming game in a relatively short period. One visit to their website shows a company tuned into the modern beardsman aesthetic, and their products – which range from beard oil and brushes to soaps and razors – look awfully appealing. Still, all that glitters is not gold. Is Viking Revolution any good?
In total, it is hard to beat the value for the quality that Viking Revolution provides. Their oil-based products contain reasonably high-end ingredients. Their tools look sleek and are made from good materials. If you are compiling a beard care kit for the first time, Viking Revolution is an excellent supply source.
With a product line that's both extensive and varied, this company is worth exploring in greater detail. So, let's dig into their operation and see how their wares compare to other beard brands.
What Viking Revolution is All About
While Viking Revolution's website lists a headquarters address in Clearwater, Florida, the company's production operations seem to be in China. This is not a comment on the quality of their products, but it likely explains why their prices are so low.
Unlike many other lifestyle brands, this company does not place its founder, Victor Mendoza, at the center of its story. There is an oblique reference to "two friends" starting the business on the website's About Us page. We cannot determine who this co-founder is.
Indeed, that 2016 founding date comes from company filings, not from any hagiographic details on the Viking Revolution website. It's all but impossible to find an interview with the leadership of the brand.
In short, If Viking Revolution is a personal labor of love for its founder(s), that doesn't come across in its marketing. That's not a dig on the company's operations. Viking Revolution seems to have its finger on the pulse of the beardsman's lifestyle. Its packaging and web presence are full of woodgrain imagery, turn-of-the-twentieth-century typeface, and Nordic-looking fellas with bushy facial hair.
Should You Shave Your Chin When Gro...
Their mission statement states:
If you're a modern man with high standards and an awesome beard – go ahead, join the unique experience that is the Viking Revolution and see what we are all about.
So, perhaps it's worth digging into this company's products and see if they stand up to scrutiny. 
What Viking Revolution Has to Offer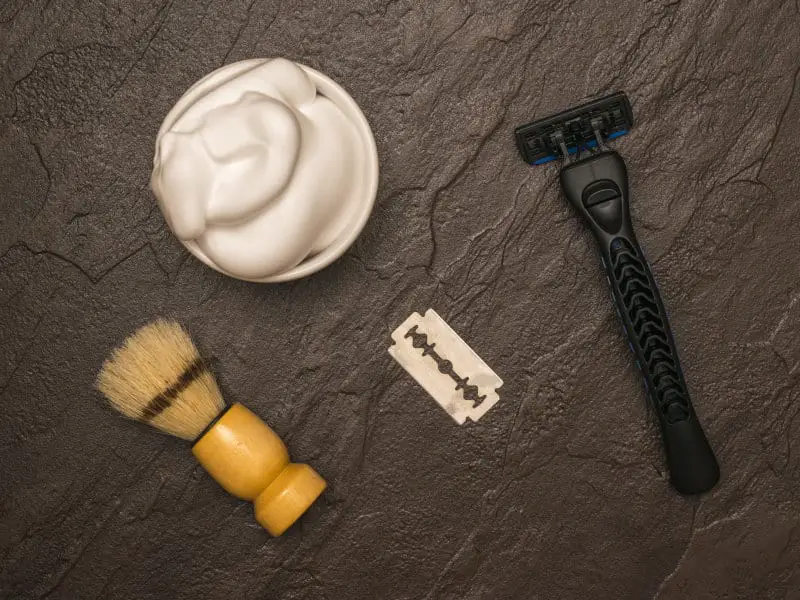 Even before you get to the quality of Viking Revolution's products, you have to marvel at the sheer volume of its offerings.
Here's an illustration of what they have on sale via their online store:
Four varieties of Beard Oil, ranging from unscented to wild aromas like Bay Rum.

Five beard balms, including one co-branded with the UFC league.

Multiple beard grooming tools sold individually and in kits with mock-leather cases.

Multiple Beard Washes and Conditioners, including some UFC varieties.

Three different double-edged safety razors and a straight razor.

Four different shaving creams (Unscented, Sage, Sandalwood, Peppermint Eucalyptus).

Four shaving soaps in the same scents.

Shaving accouterments like brushes, bowls, and replacement blades.

Keto and Beard Growth Supplements (according to the company's Instagram, they used to sell testosterone boosters also).

Other men's grooming essentials, like soap, shampoo, conditioner, face wash deodorant, pomade, tea tree balm, and charcoal soap.
If there's one thing to unequivocally recommend about Viking Revolution, it's the company's determination to be a one-stop-shop for all things masculine.
Of course, none of this matters if the product is not good. This begs the question:
What Are People Saying About Viking Revolution?
As a whole, the beardsman community seems pretty positive about Viking Revolution. In a market saturated with men's hair and beard products, their lineup is impressive by three metrics: comprehensiveness, quality, and value.
Comprehensiveness
We discussed this earlier, but if you need anything for your beard, face, body, or hair, this company almost certainly makes it. And they provide two comprehensive, simple points of commerce. Their website store is clean, secure, and easily searchable. Viking Revolution has also optimized its Amazon presence, effectively duplicating its company brand on the ubiquitous e-commerce site.
Quality
With an operation as vigorous as this, you might expect Viking Revolution to be skimping on their materials.
That is not the case. Their oil-based products use high-quality carriers like jojoba and argan oil. Their metal tools are stainless steel, and their wood products are hewn from attractive pearwood and sandalwood.
Beard product reviewers, almost across the board, praise their soothing balms and oils, which run the gamut from understated to aromatically complex.
Value
There are many companies out there that make natural facial hair products using premium materials. Viking Revolution is a particularly attractive outfit because its wares are so affordable.
You can buy a full beard care kit from Viking Revolution for the same price many companies charge for a single bottle of beard oil. This makes them hard to ignore.
If you want to check out an excellent – and representative – review of Viking Revolution's starter beard kit, check out this comprehensive rundown from YouTuber Dan C Bearded:
How Viking Revolution's Products Compare to the Competition
Viking Revolution has planted its flag in the men's grooming landscape. The company's marketing, packaging, promotions, and price point indicate that it wants to be an early acquisition for newly-bearded dudes.
Their kits seem tailor-made for gifting. Men growing out their facial hair for the first time will find much to love, including a complimentary e-book on grooming techniques.
That's not to say that their products are cheap and chintzy. Just because they seem compatible with starter beardsman doesn't mean they aren't quality. On the contrary, we can imagine guys developing quick, lasting loyalty to this brand. Viking Revolution's prominence in the market seems to prove that's already the case.
If you've enjoyed Viking Revolution's oils and balms and want to check out a more luxe option with a sterling reputation, we suggest the Collezione Barbiere by Acqua Di Parma Beard Serum. This boutique Italian brand makes an excellent serum with a sweet almond and grape seed oil base. It was ranked on both GQ and Men's Health's most recent top beard oil lists. GQ notes that it "soaks quickly into the hairs and softens them, priming everything for a detangling."
Viking Revolution – Worth It or Not?
Without a doubt, Viking Revolution is a good brand if you are starting your first beard care kit. The value for your money is unmatched.
Perhaps you think that's damning with faint praise, but we don't think it is. There are plenty of boutique beard-wares outfits born of passion that nevertheless produce lackluster items. Alternatively, many excellent beard products cost an arm and a leg.
Offering this level of quality at a price any beardsman can muster is no small accomplishment.
We regularly drop lists of the best beard product brands out there. To explore a bit further, take a look at our rundown of the best brushes and combs for new beardsmen.