Every male wants a good-looking mustache; at least, those who grow it do. Otherwise, why would they grow it in the first place, right? But here's the thing: trimming alone will hardly keep your mustache in healthy condition. You need to use mustache oils to maintain these cute facial hairs. The problem is: how do you know the best oils for mustaches?
The best oils for mustaches are formulated using botanicals that improve the shine and health of the hairs on your upper lip. Some of these ingredients include jojoba, argan, grapeseed, and tea tree. The Honest Amish, Cremo, Ranger, and Wisdom mustache oils are some of the best brands on the market.
There is more to mustache oils than just the brand name, fanciful packaging, and marketing strategy. Good quality mustache oils don't only work as advertised, but also complement other beard products. Any beard or mustache care product in your arsenal needs to be combined with these oils to work effectively.
Read on to learn the proper use of mustache oils and how to choose good quality ones. And, just in case you have a light mustache, here's something I suggest you do first before buying any beard or mustache oil. Check out this article to learn exactly what you can do about your light 'stache.
What are Mustache Oils?
There's no better place to start learning about the best oils for a mustache than knowing exactly what these products are, what's in them, and what they are formulated to do. So, let's start by getting a clear picture of mustache oils, shall we?
Mustache oils are basically beard oils. They are leave-in conditioners that condition your mustache to make them soft and smooth. These oils also provide necessary hydration for your hair and nourish the skin under your cute mustache.
If you're just getting into the mustache-growing game, you may likely experience itches, irritations, and flaky dandruff on your hair. Instead of completely shaving off your mustache, you need to understand why these little annoyances happen, and how using oils can prevent the situation.
The sebaceous glands at the root of your hair follicles secrete oil known as sebum. I know this may start to sound a bit like a biology class, but it's necessary to give you a clear picture of what happens when your hairs feel all itchy. As your hair grows longer, more sebum oil is needed to moisturize and nourish the skin. However, since your oil-secreting glands can't keep up with the job of oiling your lengthy hair, your follicles will begin to dry out and cause itchiness, irritation, and flakiness.
Mustache oils work in the same way as the sebum oil. Thus, using them regularly will provide the much-needed coating for your hair follicles to nourish and moisturize your mustache and skin.
But is this explanation actually necessary? Yes, indeed it is. Besides showing you how mustache oil works, it also helps you differentiate between mustache oil and mustache wax—a similar product that many people confuse for mustache oil.
Is Mustache Oil the Same as Mustache Wax?
No. Oil and wax are two different mustache care products, and cannot be used interchangeably.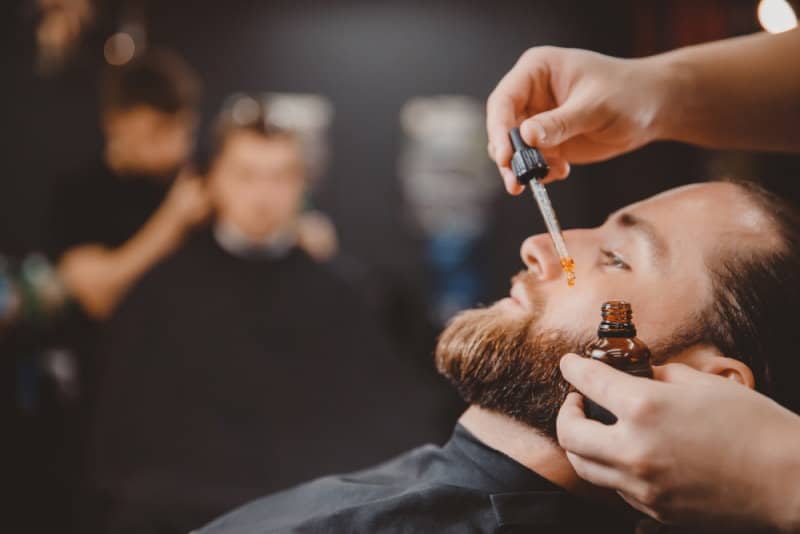 Mustache wax is the stiff pomade used for styling hair and holding it just the way you want it. If you grow a particularly long mustache, you need to wax it so you can keep the hairs away from getting messy when you eat. Although you can use a straw for drinking most liquids, I don't think it's a great idea to use a straw for eating, don't you agree?
The thick consistency of mustache wax helps them protect your hair from environmental hazards. Some high-quality waxes like the Firehouse Dark Moustache Wax contain ingredients that make your mustache look darker, giving it a thicker and healthier appearance.
Who knew that something seemingly ordinary as the fuzz on your upper lip could be so important? But they are! Your mustache adorns your face and gives you that manly look, which is why you need to give it extra attention. Don't stop at caring only for your beards and ignore your mustache. Oil, wax, and brush them regularly to maintain a great look.
Speaking of brushing, although the tips of your fingers are the major tools you'll need for working oil or wax into your mustache, you'll also need good quality brushes like this one to style your mustache.
What's in Good Quality Mustache Oil?
With so many brands on the market, you need to be sure about what to look for in mustache oils. Any good quality oil for your 'stache should contain a combination of two or more of these carrier oils:
Jojoba: Provides deep moisturizing and is highly effective for taming wiry hair.
Argan: Softens the skin under your mustache and prevents wrinkling.
Grapeseed: Helps prevent ingrown hairs and acne by opening up the pores on your skin.
Coconut: Provides excellent moisturizing effects and is particularly helpful in warmer climates.
Castor: Protects your skin from flakiness, dryness, and irritation.
Almond: Minimizes inflammation and prevents the development of ingrown hairs.
Hazelnut: Provides adequate hydration for your skin and protects your skin from acne and eczema.
Apart from carrier oils, the best mustache oils contain essential oils, too. Think of them like the pepperoni toppings on your pizza—essential oils add that extra kick to mustache oils. They are added to provide antibacterial and anti-fungal protection.
When choosing mustache oils, look for one that contains quality essential oils, such as tea tree oil, eucalyptus oil, fir needle oil, and pinewood oil. If you need to pay a little extra to get these oils, it will be worth every penny, especially if you want to prevent irritations or itching.
Lastly, many mustache oils contain fragrance, whereas a few are fragrance-free. It is important to note that oils that use synthetic-based fragrance will last longer than those with a natural-based fragrance. Also, results are typically slower when you use all-natural oil products; however, they will be the best types of oils for your mustache, skin, and the environment at large.
How to Use Mustache Oil
There's nothing complicated about using mustache oil. You don't have to be an Einstein to learn how to use the product, but you need to know how to use it correctly to get the most out of it.
Wash Your Mustache with Warm Water
If you want the best results, your mustache needs to be clean before you apply oil to it. A good time to use mustache oil is after bathing or washing your face because your hair follicles are still warm, and your skin pores are open to absorb the oil easily. You don't necessarily have to wash with shampoo; warm water will do just fine. Towel-dry your mustache after washing before applying oil.
Place Drops of Oil on Your Finger Tip
Place some drops of oil on your fingertips or into your palm. The exact amount you need will vary depending on your mustache and what you want to achieve (more on that below). Then, rub your fingers or palms together slightly to warm up the oil before rubbing it on your mustache.
Massage the Oil into Your Skin and Hair
Work the oil into the skin under your mustache. Gently massage the skin to make sure the oil gets to your hair follicles. Use your index finger and thumb to spread the oil throughout the hair and the tips of your mustache.
Brush and Style Your Mustache
Go ahead and brush or comb your mustache. You can apply wax too and style it in whatever way you prefer. There are tons of videos online on how to use mustache oil, but I find this one very succinct and apt. It shares helpful tips on the use of mustache oil:
How Much Mustache Oil Should You Apply?
This question comes up quite a lot because of the generally vague directions that come in mustache oil products. For starters, how much would be considered "a few drops?" This type of instruction will only confuse you, especially if you are entirely new to using the product.
While there is no one-size-fits-all rule for the quantity of oil to apply, you can start with three drops applied on the tips of your index finger before rubbing into your mustache, as explained above.
Start with this quantity and notice how your mustache feels. If it is a bit on the dry side, you may need to add one or two more drops. If it is too wet or greasy, especially for thin hair, you may need to use only one or two drops.
You will need to experiment the first few times before arriving at an exact quantity to use. Keep in mind that cold weather can dry out your hairs quickly, and that will affect the quantity of mustache oil you will need to apply.
The good thing about mustache oils is that a one-ounce bottle (28g) can be used up to a hundred times if you use an average of three to five drops per application. So, you don't have to worry about running through your bottle too quickly.
Can I Use Beard Oil on My Mustache?
Absolutely!
Any good quality beard oil is also meant for use on mustaches. When you look for mustache oils online or in any store, it may be difficult to find one that is explicitly meant for mustaches only. The hairs of your mustache are essentially the same as those on your chin and neck, which explains why most beard oils are formulated to work on mustaches.
Beard oils are not just good for your mustache; they equally help to maintain the skin around your chin, cheeks, and on top and below your lips (not to be used directly on the lips however—they are not lip balms!).
What to Consider When Choosing Mustache Oil
Look for products that contain a combination of the plant extracts mentioned earlier. But, apart from the ingredients in mustache oils (carrier oils, essential oils, and fragrance), the following are two vital considerations you need to make when selecting a product to keep your mustache looking shiny and healthy.
Ease of Application

: Mustache oils are easy to apply; however, because they are runny, spilling can occur. For this reason, it is an excellent idea to buy mustache oils that come in bottles with droppers. It is a lot easier to measure the quantity of oil you need with a dropper. Oils in stopper-style bottles may be a bit difficult to use, but that's not to say they are substandard products. There are various great and light-scented, all-natural mustache oils that you can use. They are terrific options for promoting healthy mustache and beard growth and tackling beardruff effectively.

Price Point

: Mustache oils are available in a wide range of prices, from around $10 to $50 or more! As a general rule of thumb, high-end oils are usually formulated with the best ingredients. However, that's not to say you can't get good-quality mustache oils without breaking the bank! 
10 Best Oils for Mustaches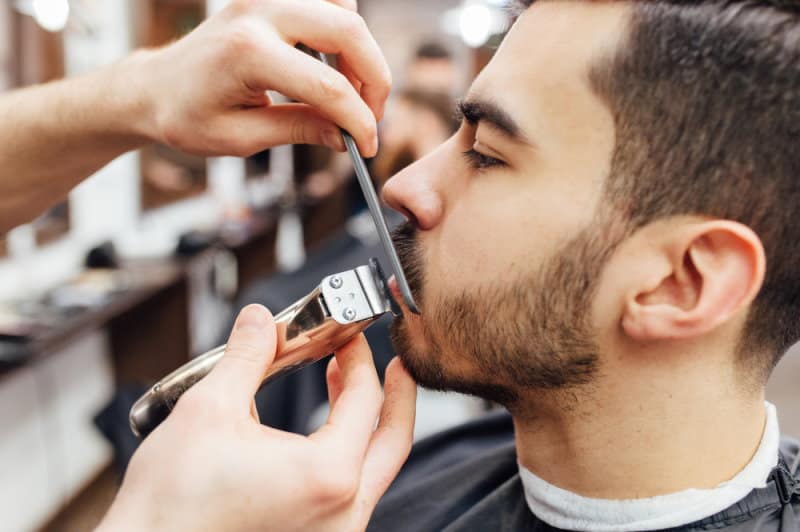 Now, let's get to the crux of the matter. You don't have to worry about searching through the plethora of mustache oils on the market because Beard Guidance has done the heavy lifting for you.
Here is a list of my ten best ten oils for your face fuzz on the market, from the top pick to the least.
My top pick for the best mustache oil is none other than the Honest Amish Classic Beard Oil. This beard oil works amazingly well for beards and mustaches, too. It is formulated with all-natural ingredients, including seven carrier oils and seven essential oils.
The brand is tested and trusted by thousands of men across the world, so you can be rest assured that you will get the highest quality when you buy this product.
Looking for quality oil that smells really nice? Look no further! Wisdom Premium Beard Oil is indeed a premium brand that any classy man would love to have. Its woody and deep earthy scent comes with a slight hint of a fresh citrus smell.
This product is great for repairing dry skin, soothing itchiness, and giving your mustache an attractive shine.
If you don't want mustache oils that will clash with your cologne, then the Cremo Unscented Beard Oil is what you're looking for. Besides being paraben-free, it contains only non-fragrant oils.
This oil is perfect for soothing itches and irritations caused by ingrown hairs. It also restores the skin's natural moisture and stimulates the growth of healthy mustache. On the other hand, perhaps the best thing about this oil is its effectiveness considering its relatively low price when compared with other brands.
If you are sensitive to fragrance, it can be a choking experience to have scented oil right under your nose! Fortunately, this next product is formulated for those who don't like strong fragrances in their mustache oils. The Ranger Fragrance Free Beard Oil is made from 100% organic ingredients and includes argan and jojoba oils.
Ranger is not just about "no-scent" oil; it is one of the best when it comes to combating beardruff.
This is the second oil from the world-renown Honest Amish brand to make this list, and it is here for good reason. The Premium Beard Oil from Honest Amish is an upgrade to the earlier classic version, containing both jojoba and argan, whereas most other brands would have either of these carrier oils. It is formulated to nourish and hydrate your hair while offering protection against itchy skin and flakiness.
This product is more expensive than the classic version, but that is to be expected considering its quality and efficacy.
This beard oil indeed lives up to its name. It comes with the rich sandalwood and vanilla smell, giving you a unique class and style. It also comes with completely rich organic food-grade ingredients.
If you want a soft, full, and healthy mustache, Badass Beard Care Oil is the right choice. It contains ingredients to get rid of itchy and flaky skins, encouraging thicker and faster hair growth. It can also help you repair split ends, tame flyaway hairs, and give you a healthy and manly physique.
This is your ticket to a perfect beard. PREMIUM Beard Oil Conditioner of Prophets and Tools was formulated with natural ingredients that will restore, protect, and bring your beards back to life. It works well for everyone, irrespective of age, race, or skin color. Only three drops of premium beard oil will do the magic.
It is ideal for use after showering or as part of your morning routine. The component is non-greasy, and your hair will absorb it quickly. It contains natural ingredients like chamomile, jojoba, and aloe vera. Premium beard oil can also improve your beard growth speed.
Want a beard that will present you as a true gentleman? 3x beard oil is a terrific choice. This is a beard oil rich in essential nutrients to nurture your beards and prevent itching and thinning facial hair.
Again a product of Prophets and Tools, DELUXE EDITION 3 Pack Beard Oil that uses natural ingredients and vitamins exclusively. The scent is heavenly as well; you will love it. Deluxe 3 pack beard oil will moisturize, condition, and soften your beard and mustache. It does not contain nuts and is suitable for vegans.
Made with completely natural beard oil, Growther Beard Growth Oil contains cold-pressed essential oil. It was made from natural and nonvolatile oils with a neutral scent. With this beard oil, you can reduce break, moisturize your beards, keep it healthy, and avoid brittle and split ends. Your beards will shine when you start using this oil. 
This handcrafted beard oil will heal and repair dry or damaged hair. The light blend of citrus and cedar aroma will not overpower your senses.
If you are not a fan of scented beard oil, you will love Pure Jojoba organic beard oil. Everyone, irrespective of skin type, can use it. It reduces the risk of developing acne and dandruff and gets rid of irritation and itching.
Pure jojoba beard oil prides itself as the only organic beard oil in the market. Using it will make your skin very soft and attractive. It relieves inflammation, regulates the pH level of your skin, and encourages healthy hair growth.
Conclusion
Many people assume that there's no need to put much effort into growing a nice-looking mustache. If you don't care for your mustache, it will have no option but to grow willy-nilly. For some others, caring for a mustache means regular trimming only. Nevertheless, your mustache needs more care beyond lining a nice trim.
Regular application of oil will give it a good shine, smooth feel, and, most importantly, moisturize and nourish your skin. Using mustache oil will provide your mustache with adequate protection against environmental hazards, as well as skin irritation, itches, and beardruff.
Consider choosing from any of the recommended products, and you'll be glad about your results. Remember that donning a good-looking mustache will also boost your self-confidence!