If you're new to growing a beard, keeping your lion's mane maintained will require a specific set of tools. Just like the lion's mane gives him respect in the wild, a man's beard portrays age, experience, and wisdom. Sure, you could go wild and look like an animal all day, but in a civilized society what gains you attention and sends off positive signals is a well groomed beard! 
Imagine this. You've grown your first beard, but it's turned out to grow in a completely untamed mess. You imagined your beard would grow out like one of the majestic beards from Vikings on the History Channel that make women go weak in the knees. Instead, your face has turned into a wild, untamed forest.
What does it take to achieve a majestic beard?
Grooming a beard is easier for some and much less so for others, especially if your natural hair is curly and strong enough to tie parts together on a shoddily constructed rocket bound for space. So, for those men who have just recently begun their journey growing out their first beards, you'll need a tool kit to groom your manes and keep them in check. 
What's the best tool kit? A solid brush and a comb will do the job. It's important to keep in mind that different types of hair will be more receptive to different types of brushes and combs. Depending on your hair, you may only require a good brush. If your mane is dense and difficult, then you may need much more than just a brush.
What benefit does a brush offer?
The absolute first tool you will need in the early stages is a good brush or a good comb, maybe both. If your beard hair is soft and easily bends to your will, a brush will suffice, preferably one with strong thistles like those made from boar's hair. 
Since the brush is generally harder and covers more area it will often be more effective at changing the direction your beard flows. When your beard is short, the brush helps keep it growing in whichever direction you apply the brush. In order for the brush to have maximum effect, it should be applied as many times as is conveniently possible a day.
How beneficial is a comb?
On the other hand, if your beard is thick and rebellious, you'll likely need to comb it to have any effect on its shape. If your beard is like mine, which is to say terribly thick and strong enough to carry objects into space, then you'll require both brush and comb, and lots of applications of oil or moisturizer.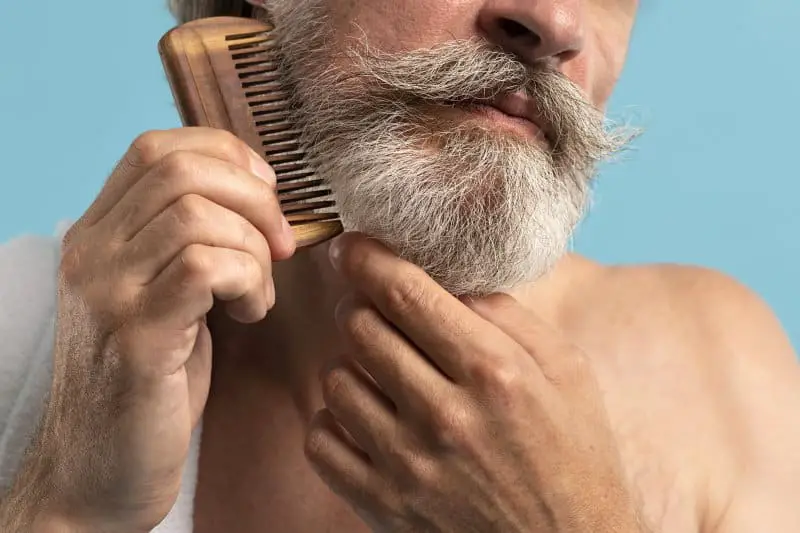 The comb is often better applied during the late stages of beard growth. If you start to comb when your beard is short, the hairs will simply bounce back into place. A comb applied to a mature beard makes quick adjustments easier. When grooming rough and defiant hair, the comb serves as a tool to soften the beard to the touch of a brush afterward.
What makes a good brush and comb?
A good brush or a good comb will depend entirely on your specific type of hair. However, there are some universal principles that apply. I use a steel comb because my hair is too thick and frustrating to respond well to anything else. And even then, the steel comb only serves the purpose of opening my beard up to be susceptible to a brush. 
If your hair is easier to work with than mine, you'll be able to keep it under control with much less effort and I will probably envy you! The application of a good brush to the appropriate beard hair will change the direction of its flow while not doing it any harm. The application of a good comb will allow for quick adjustments to small precise areas of your beard.
Things to look for when buying a brush
Not all brushes are created equal. Some brushes go better with different beards. So, what will make a good brush for you?
Endurance: Boar bristles are ideal, but generally you want a brush with material strong enough to be effective, but won't scratch your skin.
Size: It's generally good to have two brushes, a big one for use at home and a small one for use on the go.
Comfort: Surprisingly enough, keeping your beard comfortable is greatly important to keeping its majestic appearance. The less you feel the need to scratch or rub it, the easier it is to maintain.
The 6 Best beard brush and comb kits
Depending on your type of hair you might want to find the brush that works best for you. Here are a good few options to start:
This comb proved to be a pleasant surprise to me. It's very strong and gets through my hair easily. I've had this comb for over a year and I can barely see any wear on it. The only downside is that it's quite bulky compared to other combs. In terms of effectiveness, it's actually my favorite!
I still carry it around on my person for quick adjustments when I'm out. In fact, if you're new to combing your beard and your hair is thick, I'd highly recommend starting out with the Beardilizer.
They say German engineering is the finest. This brush proves that in spades. The boar bristles are perfect for shaping hair. In a bad brush, the bristles will soon start to fall apart after use. That's not the case at all with these bristles. I once had one of these brushes and it worked perfectly in the early stages of growth.
One particular thing I noticed was that my beard did not itch as much when I used this brush when compared to other options. If you have thick hair like myself, beard itching may be a more prominent problem for you than for someone else with thinner hair. For those of us who have fast beards or beards that tend to itch, a good brush like this will go a long way to mitigating the problem. 
This little comb is easy to take on the go. It has two ends, one with wide teeth and one with smaller teeth. Generally, the smaller end is perfect for adjusting the mustache. The wider end is great for adjusting the rest of the beard. The only negative to this comb is that I have noticed it accumulates static.
Sometimes after brushing with this comb, the static will push my hairs a little out of place! However, this is rarely the case. This comb is perfect for making precise adjustments to small areas.
As far as versatility goes, this brush is a cut above the rest. Does it look like a girl's product? To the untrained eye, yes. That's why I've never brushed in public with this. On the other hand, it has both nylon and boar's bristles and they're excellent for long and dense beards. The round cylindrical shape has proved to come in handy plenty of times.
There have been some moments when this brush was more easily able to apply a precision brush to certain parts of my beard without touching the other areas I felt I had shaped perfectly and didn't want to disturb.
For the particularly lazy beard groomer, it's nice being able to wave this around and have literally any part of it apply a brushing effect rather than having to rotate the brush for the bristles. This can come in handy for those mornings you're recovering from a hangover and when you still want to look damn good as you take your walk of shame back to your apartment. 
This is by far the most expensive item on this list, but it's not without reason. It's bristles are temperate to any condition. The manufacturer advertises this as the perfect travel brush. It's very solid and was built to last virtually forever.
This boar bristle brush even helps with skin care and prevents ingrown hairs forming. It's important to note that for this impressive brush you could easily afford every other entry on this list and still have dollars left over. For those with money to spare, this is an optimal brush.
I'm not going to lie, I'm pretty biased when it comes to this comb. It's small so I've always been able to carry it around in my pocket, and even my wallet if I so choose. The stainless steel construction makes this comb far more durable than wooden or plastic options. It's anti-static, so applying this comb won't leave your beard fuzzy or frilly after application.
As I mentioned earlier, I have hair that is thick and strong enough to tie objects down in a space rocket and keep them in place when launched into orbit. The steel construction of this comb is optimal for me.
Conclusion
Which of these options is best for you may depend entirely on your type of hair. If you're like me and you have beard hair that is thick enough to make ropes and moor a ship in harbor, then my highest recommendation is the Airisland Dual Action Stainless Steel Comb. I mentioned I was a little biased toward the comb and I was only being honest.
A stainless steel comb is almost a necessity for curly, thick hair. However, finding a stainless steel comb that's anti-static, cheap, effective, and small enough to fit in your wallet is unique. I've used the comb the most out of convenience. I love using it. It's my personal favorite and ranks the highest on my list.