These days it seems there's one beard product or another on display in most stores. Sometimes, you wonder if these male grooming products are any different from each other or if they are all just the same. Two common beard care products that raise such questions are beard balm and beard butter. Is there really a difference between the two?
Beard balm and beard butter have similar constituents but with one major difference. Although beard balm has a thicker consistency and is meant for styling and keeping flyaway hairs in check, beard butter is creamier and formulated to promote healthier beard growth by providing greater conditioning.
Of course, there are other differences between these two products, and this post will cover them extensively.
If you've ever wondered what the benefits of these products are, whether it is okay to buy and use both products together, or what time is best to use them, you'll find the answers to all of this and many more in this article.
Keep in mind that both products are great; this is not about which one is better than the other, but what each product is designed to do. Knowing their difference not only helps you choose what works best for you, but it also helps you decide when to use which product.
Let's begin with beard balm.
What is Beard Balm?
Beard balm is a beard grooming product that contains a blend of beeswax, essential oils, butter, and carrier oils.
The purpose of beard balm is to provide long-lasting hold for beards, so you can style it in whatever way you want. It also serves as a leave-in conditioner that helps your beard lock in moisture.  
In other words, if you want to tame and control stubborn flyaway hairs while enjoying the benefit of a moisturizer, a beard balm is your best choice.
Benefits of Using Beard Balm
The main benefit of using a beard balm is its hold, which means you can style your beard better with a beard balm.
However, that's not the only benefit of using this amazing beard product. Here are some more benefits of the product.
Beard balms help soothe or reduce itchiness that can result from a lack of natural skin oil.

The product contains ingredients that moisturize your beard.

Beard balm can help treat and prevent beardruff.

If you have beard patches, using a beard balm can resolve that problem.

Beard balm prevents split ends and also reduces beard hair loss.
When Should I Apply Beard Balm?
There is really no hard and fast rule about the exact time to apply beard balm. However, it makes more sense to use the product when you need to maintain a sharp appearance. That is another way of saying the most appropriate time to use a beard balm is during the day; because, let's face it, the reason we style our beards is so we can look presentable.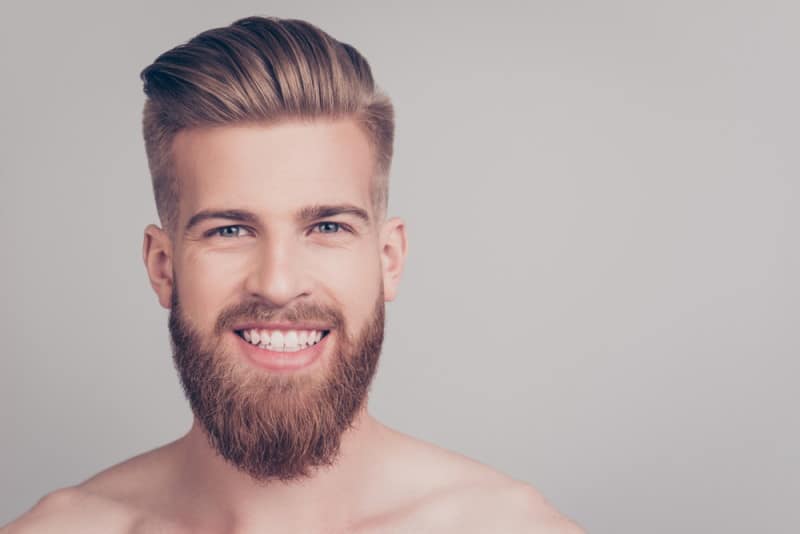 Apply the product when your beard is in the best condition to allow the balm to spread properly. In other words, right after your morning shower would be a good time to apply beard balm.
Gently pat your beard with a towel to remove excess moisture, but don't dry it completely. The slight dampness will allow the balm to spread easier throughout your beard.
You should brush your beard afterward with a beard brush with bristles made from boar's hair. Here's one I recommend. However, if you have a long beard, a comb will help untangle any knots in your beard.
Ideally, beard balm should be applied once daily. Good-quality beard balm should last throughout the day when applied after your morning shower.
Because beard balm gives a stronger hold, it is best to use it during the day. It will keep your beard hair in place and protect it against harsh elements as you go about your day.
Recommended Beard Balms
If you're looking for good-quality beard balms, I've compiled a small list of products that you'll find highly effective.
If you want a beard balm that is just right—not too sticky or thick, and not too runny or light—the Premium Beard Balm by Prophet and Tools is your perfect choice.
This beard balm melts fast and blends well with all types of beards, and it also works for men of all races, including white, black, Asian, and hispanic. The balm is crystal white, meaning you don't have to worry about stains that result from most typical yellow balms.
You will feel the difference in your beard right from your first application! It's 100% organic with zero alcohol composition, and it also offers your beard up to 12 hours coverage. Other than its shine, the balm also feels so light, you'll hardly even notice it.
From the most trusted beard care brand in the world comes this high-quality beard balm.
In keeping with its long-established tradition of delivering first-rate products, Honest Amish offers this handcrafted Heavy Duty Beard Balm—an all-natural and organic beard product formulated to enhance your beard length.
Like most beard balms, the heavy duty beard balm from Honest Amish conditions and softens your beard. However, unlike most other brands, it is carefully crafted to minimize hair breakage.
If you want more control and styling properties, this is the brand to choose. Honest Amish is so confident in their product that they offer a full refund if you are not 100% satisfied with the product.
Okay, this product right here is not your regular balm.
Viking Revolution Beard Balm is an all-natural grooming treatment that is specially made from a blend of mango butter, the finest quality jojoba oil, and argan oil to guard your beard against flakiness and dryness.
Even if you have burly beard hairs, Viking Revolution Beard Balm can straighten, smoothen, and control it. All you need to do is apply the non-greasy balm and leave it in all day to condition and soften your beard.
The citrus scent will leave your beard and mustache smelling fresh throughout the day. The balm is perfect for eliminating beard itch and beardruff.
If you want a premium leave-in conditioner that stimulates beard growth and styles your beard at the same time, this beard balm from Delta Genesis might be just the thing you're looking for.
Beard Bolt XL contains a blend of caffeine and several high-quality essential oils engineered for enhancing your beard and styling it simultaneously. It is engineered to minimize itch, strengthen your beard, and give it the boost it needs to stimulate hair growth. It provides deep conditioning and has a nice hold for styling your beard and mustache.
Have you ever thought of pouring your beard a fresh cup of caramel coffee every morning? Caramel Mocha Blend Beard Balm could very well be what your beard needs to stay bright and healthy throughout the day!
This beard balm by Grave Before Shave is formulated with the finest oils and butter to tame your beard, control unruly hairs, and minimize annoying flyaway hairs. It will also provide deep conditioning and protection for your manly mane, too!
Keep your beard healthy and smelling great with this beard balm. There's just no better way to start your day than with the scent of caramel coffee and mocha.
What is Beard Butter?
Beard butter is an amazing beard product generally formulated with natural butter (such as shea butter) and natural oils.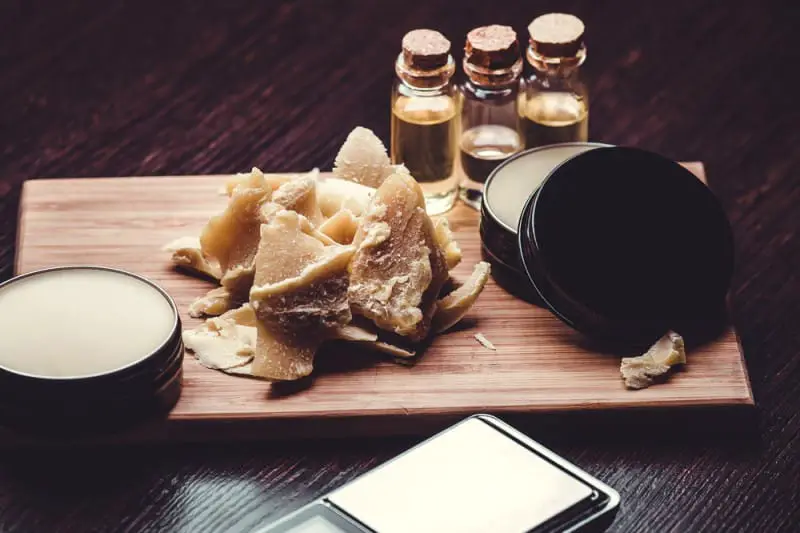 Like beard balm, it provides hold for your beard hair, but it is not as strong as a balm. However, that's not surprising since the product is not formulated specifically for the styling of beards.
Beard butter is meant to provide deep conditioning and moisturize your beard and skin. The natural butter and other ingredients help promote better hair growth, healthier and softer beard hair, and adequate nourishment to the skin underneath.
Think of beard butter like a thinner version of beard balm, but add to that the benefit of a light hold and deep conditioning for your skin and beard.
In other words, when it comes to providing a great look and stimulating healthy hairs, beard butter will offer you the best of both worlds!
Benefits of Using Beard Butter
Some great benefits of using beard butter include:
Providing deeper conditioning for your beard.

Due to the butter in the product, it gives your beard a softer feel over time.

Beard butter prevents your beard from becoming scruffy and messy.

It has light styling properties, making it ideal for particularly longer beards.
When Should I Apply Beard Butter?
Like beard balm, there is no law stating exactly when to use beard butter, but we are sensible men and can deduce that the most appropriate time to use beard butter will be based on its properties.
Think of beard butter as the medicine for your beard and the skin under it—if you want the "drug" to work well, use it when there are fewer disturbances.
Consider using beard balms mainly at night after you have showered. Apply it on your beard and leave it in to hydrate and nourish your beard and skin deeply.
You can also use it when you plan to spend most of your time at home.
Recommended Beard Butter
Here's a list of high-quality beard butter products to help you choose the one that suits your beard the best.
In a failed saturated market, it takes a lot to stand out, but that's exactly what Gladiator Beard Butter has done. This product boasts of natural shea butter in addition to nine different carrier oils. It melts easily without clumps and does an excellent job at moisturizing beards.
If what you're looking for is a beard butter that can prevent skin damage and itchy patches, this is the beard butter to choose. Besides giving your beard an attractive sheen, Gladiator Beard Butter is formulated to condition, hydrate, and moisturize your beard to keep it healthy.
A perfect blend of Myrrh, Vanilla, Frankincense, and other essential oils gives it a unique icon scent that is warm, rich, and distinctively masculine, which you'll love. 
This beard butter contains zero wax, so expect a light, natural hold.
If you have dry and itchy skin or a coarse beard, this is the perfect beard butter for you. Beard Guyz Beard Butter is great at preventing flakes and making your beard shiny without feeling greasy.
This beard butter is made with mango and shea butter combined with coconut oil to keep your beard soft while providing a light hold. The butter melts quickly, making it easy to spread evenly all over your beard.
To set your mind at ease, Beard Guyz guarantees to refund your purchase price without question in case you are not 100% satisfied with their product for whatever reason.
From Detroit Grooming Co. comes this beard butter made from high-quality shea butter and coconut oil, which is specially formulated for men with a dry or coarse beard.
Corktown Butter contains antioxidants, vitamins, and nutrients that are engineered to make your beard feel and look amazing. The high content of mono-saturated fatty acids makes this product deeply moisturizing.
And to fill your senses, this beard butter combines a blend of fragrances from cedarwood and vanilla.
Leland Beard Butter is high-quality premium beard butter from Detroit Grooming Co. It comes with a limited edition of Woodward Beard Butter, allowing customers to have a feel of their latest butter.
This combo is packed full of proteins and antioxidants that repair your beard and skin. Apart from promoting beard growth and thickness, Leland Beard Butter is designed to moisturize intensely and heal your beard.
It has a stronger hold than most beard butter, making it excellent for styling your beard and mustache. The butter is made from a blend of rich, natural ingredients, including shea butter, coconut oil, vitamins, and a blend of essential oils. All of these combine to promote healthy beard growth.
If you want to take your beard grooming to the next level, I highly recommend this beard kit from the world-renowned Live Bearded brand. The kit comes complete with beard oil, beard wash, and, of course, beard butter for giving your beard and mustache some tender loving care!
Legend Beard Butter is made with 100% natural ingredients, formulated for easy absorption by the beard, leaving it healthier, softer, fuller, and smelling great, too!
Besides locking in moisture and conditioning your beard deeply, the beard butter also keeps flyaway hairs in check and allows styling without making your beard feel greasy.
Can I Use Beard Balm and Beard Butter Together?
Well, that's a fair question, given the similarity of the products.
Should you just buy a beard balm or butter?
Or maybe getting both is better?
Although each of these beard care products can work independently, getting both will give you the best result.
But is it okay for your skin and beard to use both products together? Definitely, yes! Your skin and beard hair will thank you for using both products.
As mentioned in previous sections, it is best to alternate the products between morning and night. Apply beard balm in the morning after a shower to give your beard that flawless look throughout the day. In addition, before you hit the sack at night, you should apply beard butter.
For better results, massage the beard butter into your beard to reach the skin underneath. Doing this will nourish your facial skin and stimulate hair growth.
Remember to always clean your beard before applying balm, butter, or any other beard care product. Rinsing will do just fine if you have recently washed your beard with a beard shampoo. 
When your skin is clogged by dirt and grime, especially during the day, it will be a complete waste to apply beard products either singly or combined. Clogged skin can't absorb the nourishing ingredients in beard balm and butter.
Conclusion
Although quality beard oils are great at maintaining a healthy and good-looking beard, the days when beard grooming meant applying oil alone are long gone. Your beard and facial skin need more than just oil; beard balm and beard butter are necessary additions to your beard grooming arsenal.
Beeswax and shea butter are the major ingredients that give beard balm and beard butter their unique qualities, respectively. Although both products share almost the same set of ingredients, the difference is in the proportions, especially the quantity of beeswax in beard balm and shea butter in beard butter.
Although both are great products for all bearded men, your choice comes down to the look and feel that you want. If you want more control over your beard, keeping flyaway hairs in check, and styling as desired, beard balm is the product you want.
On the other hand, beard butter is your best bet if your aim is for a softer, healthier, and fuller beard. It will also have the additional benefit of a light hold.